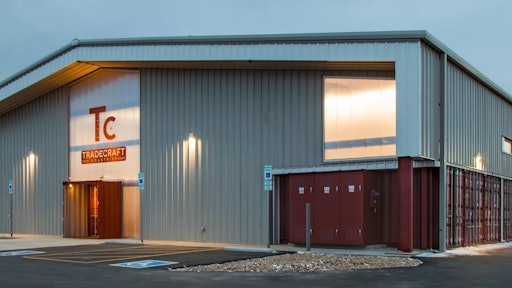 The construction industry is competitive. But a new concept opened in Denver is helping contractors improve their competitiveness through a co-working community.
Tradecraft Industries, which opened its doors in early 2017, is the first of its kind for its industry. Tradecraft Industries (TC) has created a space for construction industry members to network, build relationships with others in the industry and grow their businesses.
TC founder Bryce Ballew partnered with Denver-based Live Forward Ventures to bring the construction co-working community to life. So what is Tradecraft Industries?
"We are a collaborative construction community that helps each other and the younger generation break into the industry or scale their business the right way. Contractors here at TC are constantly joining forces to tackle challenges," Ballew says.
Members of Tradecraft Industries have access to flexible office space as well as private offices.The 19,000-square-foot facility offers members a place to focus on the business side of construction. So instead of having your own building or office space you'd be utilizing a space in the co-working community. The benefit – keeps overhead low and visibility high, according the TC.

Members of TC have access to flexible office space as well as private offices. Other features of the building include conference and estimating rooms, mailboxes and even storage units.
"I envisioned the place I would want to work from as I started my business as a general contractor," Ballew says. He wanted to create a place for contractors to work around others that were on the same journey as he was, and share the highs and lows of being in the business.  "Having a place to go to ask questions, make introductions or have access to the same resources as larger companies is priceless."
Aside from a physical location, TC offers even more services for its members. Obviously, with multiple contractors working from one building the opportunity to network with peers is a huge perk. But TC also has continuing education programs with classes taught by members of its Professional Affiliate Network, which allows members direct access for follow up meetings on their services.
How does it work? Tradecraft members pay a per month membership fee for 24/7 access to the TC building and the features previously mentioned. Members also have access to high-speed WiFi and a printer. Plus, they can rent out building space for events. Private offices, mailbox units and storage units can be rented on a per month basis.
Features of the Tradecraft building include conference and estimating rooms, mailboxes and even storage units."Think of Tradecraft like a toolbox. To do your job correctly, you need to have certain tools and structure. We are providing the right tools for the business side of being an entrepreneur in construction," Ballew says. "We're an innovative place to meet clients while providing the opportunity to market your business, create subcontractor connections, share projects, improve business development, and recruit all in one place. " 
What do you think about a construction co-working community? Will we see more of these types of facilities popping up across the U.S.?
Is this something you would take advantage of? Is it something you think the industry as a whole could benefit from?