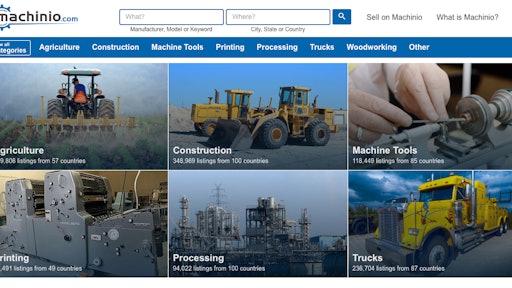 Looking to buy used construction equipment but can't find what you need from the same old sources? Have you checked out Machinio? Machinio is a global search engine for used equipment and machinery. The company was launched in 2012 and features over 300,000 used construction machines on its comprehensive database.
According to Machnino.com, the company uses proprietary technology to connect buyers with thousands of global sellers. And according to Machinio CEO Dmitriy Rokhfeld, the company works with over 2,000 machinery dealers from around the world.
What's the benefit to you?
Machinio is free for buyers to use. Under the construction tab, users can search using filters of category, or manufacturer. Machinio offers 20 category filters including asphalt pavers, backhoe loaders, dozers, excavators, wheel loaders, skid steer loaders and more. Or, search by equipment manufacturers.
[VIDEO] The Largest Search Engine For Used Machinery & Heavy Equipment
Once you filter by a category, you can either search all the equipment in that category or further filter it down my manufacturer and or state. You can also sort the search results by price (low to high or high to low).
There is also a quick search option at the top of the page allowing buyers to type in what they are looking for (manufacturer, model or keyword) or where they are looking (city, state or country).
A benefit for both buyers and sellers is that every time a seller adds a new listing, Machinio sends an email to buyers who have shown interest in similar items. As a buyer, that means you don't have to check the website daily to see new postings relevant to what you are looking for.
Machinio partners with many construction industry companies inducing Ritchie Bros., which helps the company provide such a large database of used construction equipment for sale.
The filter functions and the automatic email updates (provided you sign up to active them) seem like the top benefits of a site like Machinio. Why not let the website find the equipment for you rather than spending your valuable time searching and searching?
What do you think? Would you use a site like Machinio to find used equipment for sale? Or would you use the site to sell your used equipment?
Have you used Machinio already? What did you think of the site and the experience?
Share your thoughts in the comments section below.