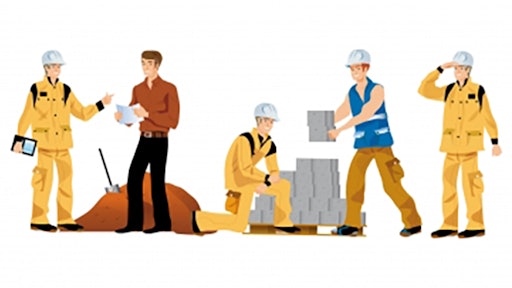 freedigitalphotos.net
Right on the heels of Workforce Development Month in September is Careers in Construction Month, observed every October. While last month we were focused on developing the current and incoming workforce, Careers in Construction Month provides an opportunity to focus on awareness. Sure, people know the construction industry exists, but do they know what it is all about? Do they know all the different jobs available to them? Do they know opportunities for higher pay and job advancement? Probably not. If they did, we wouldn't have a labor shortage.
Careers in Construction Month is spearheaded by Build Your Future (BYF) and NCCER. Last year, 34 states had either proclaimed October as Careers in Construction Month or filed proclamations waiting for official status. Over half the country sees the importance of raising awareness and inspiring the next generation of construction workers. BYF and NCCER have a wealth of resources and tools to help contractors get involved in Careers in Construction Month.
The key is awareness. The people not working in the construction industry need better education as to the makeup of today's construction industry. The emergence of technology and the jobs needed to accommodate that technology has drastically changed the construction career portfolio even from 10 years ago. Yet, the average outside observer still probably sees the industry as a hands-on, dirty, second rate job. That's a viewpoint the industry has been working so hard to overcome.
So what can you do this month to help raise awareness of opportunities in the construction industry? Get out there and get visible. Contact your local high school, middle schools and community colleges for opportunities to speak with the students. Reach out to local newspapers, radios or even television stations. Get your message out on social media through your company, company or local school and media social outlets. Does your company have staffing agencies or any organizations that work with veterans, minorities or low-income families? Bring awareness to these groups of people, too.
Awareness is only half the battle. Once people are aware, we have to inspire them to pursue these career opportunities. Giving speeches may help — if you're a really inspiring public speaker. Visual aids may help. But hands-on opportunities could be the gold mine. Many contractors are incorporating workshops, boot camps, internships, apprenticeships, training and more to inspire the next generation of workers to join the construction industry.
Here are some stories of what some contractors are offering to their communities to bring awareness and inspire a new group of workers to join the construction industry. Maybe some of these will inspire you to create a program of your own.

Does your construction company have any programs or initiatives for construction career awareness? We'd love to hear about them at ForConstructionPros.com.
ForConstructionPros.com resources
If the above stores weren't enough to inspire you, here are a few resources from ForConstructionPros.com on raising awareness and inspiration during Careers in Construction Month.
Just for fun
While you're out spreading construction career awareness and inspiration in October throw in a little extra fun by celebrating some of these holidays and observances this month.

Oct. 4 - National Golf Day

Oct. 14. - National Dessert Day

Oct. 17 - National Pasta Day

Oct. 22 - National Nut Day

Oct. 27 - Make a Difference Day

Oct. 30 - National Candy Corn Day (I wonder why...)
Did you like this blog? Read more Construction Toolbox blog posts on ForConstructionPros.com.
Also, check us out on Facebook and connect with us via Twitter.