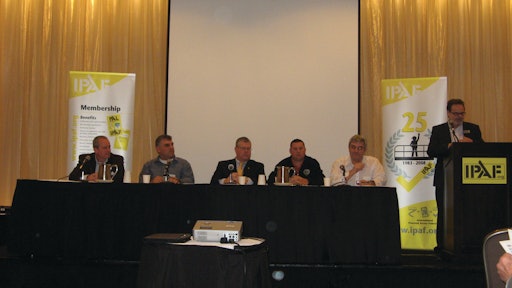 Along with over 80 other delegates, I attended the International Powered Access Federation's first-ever convention in Chicago this week to hear discussions and debates about best practices for ensuring proper safety and training for operators of aerial work platforms. I think the event was a huge success, as it really highlighted the numerous and different perspectives coming to the issues of safety and training.
I've been covering these topics for years and from my perspective, the biggest obstacle is no longer a lack of information or a failure among those in the industry to believe in the necessity for safety and training. Right now, I believe the problem boils down to a lack of follow through. There needs to be a shift in thinking where safety and comprehensive training go from being "nice to haves" to jobsite imperatives. There is no doubt this will take time.
Kevin O'Shea, director of safety and training for Mastclimbers LLC of Atlanta, GA and also chairman of IPAF's North American Council, aptly noted that currently in North America there remains a productivity-focused workforce. Operators over 40 years old, in particular, were "brought up" in a work environment which placed productivity as its highest priority, even at the expense of things of like safety and training. Younger workers, on the other hand, are beginning to see the positive connection between safety, efficiency and productivity.
"People are receptive to safety when it's ingrained while they're learning their trade, but it's more difficult to do with people who've been productivity-oriented for years," says O'Shea. "If you can teach someone who's green to be productive and safe at the same time, you can be effective. The challenge is applying new world thinking to people who came up in a different era."
There are still many more facets to the challenge of enforcing safety and training for AWP operators, but it's tough to argue that the scarcity of resources in today's business is at root of the problem, as non-revenue-generating objectives have a way of falling through the cracks. Quite simply, training takes time and money and those are two things no one has enough of.
"I keep hearing the phrase, 'We're all doing more with less,' and it's true, everyone's running on the edge of their margins," says Jeff Carter, deputy commissioner of labor for OSHA. "You have to do more with less people today and that concerns me."
The solution to the problem remains elusive, but events like the IPAF Convention go a very long way toward finding it. There's nothing like gathering as many stakeholders as possible together in one room to begin the process of building consensus. I look forward to next year's gathering and in the meantime, I encourage you to let me know if you have a safety or training program that's working for you and your customers. While there might not be a pat solution to the challenge of getting all aerial work platform operators properly and effectively trained, the more we keep the dialogue open and ongoing, the better our chances are of finding it.
Companies in this article