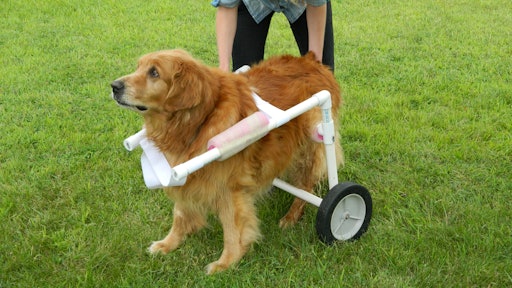 This first project is both simple and sentimental.
First, some background:
Our family dog, Buddy, is a 90-lb., 13-year-old golden retriever with a heart as big as he is. Three weeks ago, he fell ill with a severe infection. For two days he was unable to move or eat and was barely responding to any of our comforting. Fortunately, the veterinarian was able to prescribe antibiotics and some anti-inflammatory medication for his worsening arthritis. We saw immediate improvement but unfortunately he was still unable to get up or walk on his own.
I am an animal lover by nature, so this really hit me hard. I did all that I could for Buddy but his lack of movement troubled me. I believe this is why I woke up one morning with a revelation. I had dreamed that my family built Buddy a doggy wheelchair. I couldn't get the image of him happily navigating our yard using this homemade invention out of my head. I was determined to make it a reality. I searched many web pages looking for safe (and cheap) instructions. I eventually found video instructions for a PVC pipe model that cost the creator only $15. Perfect.
Our Materials
10-ft. of PVC pipe
4 PVC elbows
2 PVC standard Ts
2 furniture dolly wheels
1 wheel axle
2 c-clips
Epoxy adhesive
1 pool noodle
Ace bandages
The Process
My project partner, Eric Mehring, and I found some of the needed materials in my father's workshop, including the PVC pipe, the wheels and axle and c-clips for attaching the wheels. Ten points to my dad for making the project even cheaper. I also found pool noodles in our garage for padding. The PVC pipe joints, epoxy and Ace bandages were bought at Farm & Fleet and the elastic for the straps came from Michael's.
The original instructions were measured to fit a 10-lb. dachshund so we began by adjusting the measurements to fit a golden retriever. This proved difficult due to Buddy's immobility. We were forced to measure him lying down and this led to multiple height adjustments as we continued.
Like I said before, this project was simple and didn't require the use of any heavy-duty equipment. The primary tool we used was a Craftsman 10-in miter saw for cutting the longer pieces of PVC pipe into segments. The miter saw was efficient and easy to use but it taught Eric and me the importance of making proper measurements before cutting. As my mother says, "measure twice, cut once."
We pieced the wheelchair together using the epoxy glue. This process was pretty fun. It reminded me of tinker toys as a kid. This being said, we learned that epoxy may not have been the best adhesive to use. One elbow unglued multiple times when pressure was added. After the first couple of times the elbow dislocated, we probably should have found alternative glue. But, like true DIY-ers, we decided to save our wallets and use what we had instead.
We drilled holes through the bottom tube using a 18v Ryobi drill so we could insert the wheel axle and we secured the two dolly wheels using the c-clips. I cut up the pool noodle and padded the areas that Buddy would be rubbing up against and then wrapped them in the Ace bandages to keep them in place. Finally, the elastic was sewn and added to finish the piece.
The Result
Buddy was a little apprehensive the first time we tried to put him in the wheelchair. He fought us only until we brought him some Kraft cheese slices, then it was easy sailing. Food is a powerful motivational tool!
A small addition to the project was the ramp Eric and I built over our family's side patio stairs. We found an old wooden door in my basement and simply placed it on the stairs and leveled it using scrap wood. Carpet squares were added for traction. Buddy took to this a lot quicker than the wheelchair but we still needed a little help from Kraft.
Everyone is happy about Buddy's new mobility, including Buddy himself. Over the past week, he has been relying on his support system less and less and hopefully he will be back to his old energetic self soon. In the case of this project, the less it is used, the more successful it becomes.