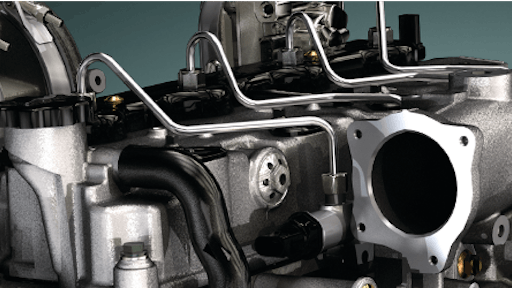 The effects of Tier 4 emissions regulations on equipment ownership was the topic of a panel discussion at the 2012 Lift and Access Showcase & Symposium, recently held in Orlando, FL. While there was certain trepidation among participants over how end users would deal with changes, they expressed a unanimous resolve to face the challenge with an eye to the long-term benefits.
Panel moderator Tudor Van Hampton, deputy editor of Engineering News-Record, kicked off the debate by asking participants whether they were optimistic or pessimistic about what Tier 4 changes would bring. 
"I'm 100 percent optimistic," says Joe Mastanduno, product marketing manager, engine/driveline, at John Deere Construction & Forestry Division. "Tier 4 machines are more expensive, but we've learned from Tier 3. There are 50,000 Tier 4i machines out in the market already and their reliability is twice as good as mature Tier 3 machines."
Andy Agoos, principal, Agoos Consulting, Orlando, FL, said he's more pessimistic due to the additional demands the advancements place on the equipment owner. "There's urea -- you have to find it and use it. Regeneration is another issue. There are different, more expensive oils. We've got a lot to deal with," he says. "We can deal with it, and we will deal with it, but there are a lot of field issues to contend with."
He continues, "We're only about halfway into the transition. At the end, it's going to be wonderful, but right now, it feels like a train wreck."
The real challenge with Tier 4 technology, according to Frank Manfredi, president of Manfredi & Associates Inc., is the need for ultra low-sulphur fuel to power the new engines. When these machines get sold later on, this complicating factor can have a negative effect on equipment values. "A large portion of used machines get sold to users outside North America," he says. "And there are only three regions that use ultra low-sulphur fuel: Japan, most of Europe and North America."
He continues, "I wonder if these emissions regulations will really have an effect on the environment, when there are only half a million machines affected. The unintended consequences of this legislation have a big impact, especially on used equipment prices."
Chris Giorgianni, vice president, product, at JCB North America, points out that machines can be "de-tiered" before being exported, and the benefits the end-user receives from Tier 4 technology are worth any initial complications. "Tier 4 forces manufacturers to improve their machines and lower operating costs."
Brad Allen, vice president, product management and engineering at Genie Industries, says he believes Tier 4 changes will, in fact, make a significant difference in the environment. "Respiratory illnesses are predominantly caused by particulate," he says. "By 2030, there will be a reduction of 12,000 deaths due to respiratory illness, which is the equivalent to eliminating all drunk driving deaths."
He adds, "There are complications [due to Tier 4] and it's expensive, but less expensive than expected."
Curt Hinkelman, senior vice president, sales, at Ritchie Bros. Auctioneers, says he's most definitely an optimist when it comes to Tier 4 changes because the developments will result in increased buying and selling of equipment, which is good for the economy. "It's a good news story all the way down the line," he says. "Any time there's a change in the market, it allows equipment to move from buyer to buyer and that's where we shine."
He adds that he's not concerned about the lack of ultra low-sulphur fuel in developing countries where North American machines are being exported because he believes supply will follow demand. "As those machines start to leave the U.S., low-sulphur diesel will start to show up."
Regardless of the effect on used equipment prices, Tier 4 machines will cost more initially. "Our initial research indicates if you take a Tier 3 machine that costs $100,000, a similar Tier 4i machine will cost $115,000 and a Tier 4 final machine will cost $125,000," Manfredi says. "If you de-tier it and sell it somewhere else, there's the potential for residual value to drop 25 percent."
The additional cost is more of a concern to some than it is to others, Mastanduno says. "There's a large part of our population that just wants the cheapest machine, but if you're in New York, where you're required to use a DPF, those guys want the Tier 4 machines now."
Will increased complications for the end-users prompt more rental activity as Tier 4 changes progress? Manfredi says yes. "Five years ago, the amount of new machines going into rental was 35 percent of those produced. Now, it's up to 55 percent. You can't blame it all on Tier 4 -- there are tons of excuses for delaying purchases, but rental is definitely much more favored now than it was in the past."
Mastanduno recommends rental companies make the transition easier for themselves by getting a head start on training service technicians on how to work on Tier 4 machines. "The more you talk about it, the better off everyone will be," he says.
Some question whether all the resources invested in R&D for Tier 4 has resulted in any additional value for the customer. Giorgianni at JCB says it most definitely has because it forced the issue of machine redesign. "We didn't view this as just an engine issue," he says. "We wanted to improve the overall customer experience."
Allen at Genie agrees, noting, "We really leveraged Tier 4 as a reason to redesign. We were able to react to some issues customers had and improve efficiency to save them money."
Mastanduno adds that Tier 4 machines will bring value in the form of lower operating costs in the long run. "Customers can save with advanced diagnostics and other advancements. Overall, customers benefit, but it's critical that they understand the technology."
Companies in this article