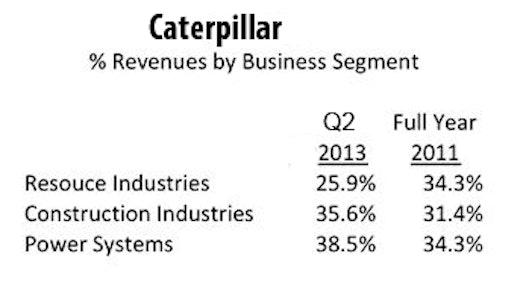 Caterpillar announced its second-quarter 2013 financial results on Wednesday, July 24, that were viewed by most analysts as disappointing to say the least. Overall total revenues were down 16 percent and profits were down 43 percent. Without Caterpillar Financial's 5 percent growth, the company's equipment business was down 17 percent.
The week before Caterpillar revealed its second-quarter results, Jim Chanos announced that he was going short on Caterpillar (Chanos is founder of the Wall Street firm specializing in short-selling stock called Kynikos Associates). In other words, he made a big bet that Caterpillar's share price would decline after the quarterly results were published.
Frankly, it's pretty gutsy for someone to short a stock like Caterpillar. Cat is one of the Dow Jones Industrials, and 64 percent of the shares are owned by institutions such as banks and pension funds. Those kinds of investors typically don't sell stock because of disappointing quarterly earnings. They generally take a long-term view.
Then on Tuesday July 23 Caterpillar published its monthly dealer statistics that indicated the company's worldwide dealer network sales were down 8 percent, with North America down 10 percent.  It felt to me as if Caterpillar was trying to inoculate investors to the fact that second-quarter results would not be good, and prevent a selloff.
So what's going on?  The main issue is that Caterpillar operates businesses that are cyclical.  That is, business goes up and down with the overall economic cycle.  The main problem this quarter was with Caterpillar's Resource Industries segment.  Readers will recall that Caterpillar purchased Bucyrus International for $8.9 billion in 2011, and a few smaller mining-related companies, placing a big bet on mineral commodity prices remaining high. High mineral prices would encourage mining companies to continue spending large amounts of money to open new mines and expand existing ones.
As the following table illustrates, in 2012 Caterpillar's Resource Industries segment represented more than 34 percent of the company's annual revenues.  But in the second quarter of 2013, Resource Industries revenues were down to less than 26 percent of the total.  That's a big swing.
Is Caterpillar wrong about the mineral commodity cycle? I don't think so. I believe the current slowdown of investments by mining companies will turn around within 12 to 18 months. In the past 12 months large mining companies have put on hold more than $50 billion of projects.  Populations in underdeveloped countries such as China and India are just beginning to enter the so-called middle class. When those people start consuming goods and services at a rapid pace the demand for commodities will get back on a growth path.
Caterpillar management emphasized that part of the reason for lower than expected second-quarter results was inventory reduction at the company as well as at its dealers.
I looked at its balance sheet and indeed the company reduced its inventory by nearly $4 billion over the past 12 months.
The company also said its dealers reduced their inventories.
That's a prudent thing for dealers to do. Most of Caterpillar's dealers are owned by families (there are some notable exceptions) who are carefully managing their money. It's a good business decision for those dealers to rely more on Caterpillar's regional supply centers.  The fact they continued to reduce inventories is an indication to me of the state of the world economy. Caterpillar's economics department has lowered their estimate of worldwide GDP growth to 2 percent.
In my opinion, Caterpillar is one the best run companies in our industry. If the company's share price goes down it should be an opportunity to buy the stock not to trash company management.