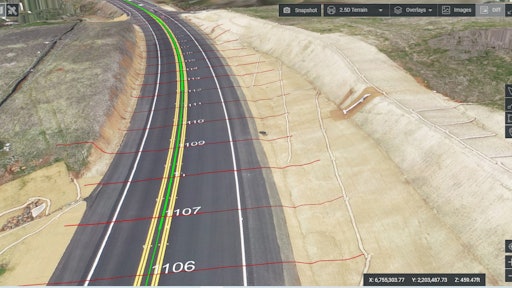 HCSS
Technology to improve productivity and efficiency on the job site were top of mind for readers this month, as new innovations in apps, software and hardware were released.
Check out the top 10 contech stories of June:
10. ToolWatch To Unveil New Jobsite Portal Web Accessibility to Enhance Collaboration and Streamline Internal Operations at World of Concrete 2021
To enhance collaboration and streamline internal operations, ToolWatch adds features to its jobsite portal that enhance communication, boost productivity, and improve accuracy. World of Concrete 2021 is scheduled for Las Vegas, June 8-10.
9. Soil Connect Adds eRegulatory Module to Digital Marketplace
Expanding digital marketplace introduces a regulatory module that eliminates paper tickets and automatically captures and saves essential truck, load and route data for regulatory bodies.
8. Buildots Releases First AI-powered Mobile Control Room for Construction Sites
The mobile "control room" gives project managers access to full control of every activity on the construction site on the go.
7. Caterpillar Takes Home Edison Awards Gold with Cat Command for Construction
Cat Command for Construction received gold in the Edison Awards' Smart Productivity Tools – Living & Working Environment category.
6. LafargeHolcim Turns to Zello for Push-to-talk and Dispatch Solution
Learn why LafargeHolcim, one of the world's largest building materials suppliers, chose to partner with Zello for its push-to-talk and dispatch solution. Spoiler alert: the answers are safety and efficiency.
5. InEight, Microsoft Dynamics 365 Launch Construction 365
Construction 365 offers a complete view of construction projects by unifying data from the back office to the jobsite and across the project lifecycle.
4. Robotic Automation's Potential to Enhance Productivity, Efficiency and Safety on Construction Sites
A global survey shows 81% of construction businesses will introduce or increase use of robotics and automation in the next decade to address skills shortage and improve safety on their jobsites.
3. The Cat S62 Rugged Smartphone - "The Boss"
Available exclusively by T-Mobile, the Caterpillar-branded S62 Rugged Smartphone was designed to survive the jobsite as well home life.
2. Construction Digitization: Understanding the Impact on Profitability
Studies show that if construction companies invest in digitization while also continuing to embrace new materials and advanced automation, they could see a 50-60 percent increase in their overall productivity
1. 6 Benefits of Incorporating Drone Technology into the Construction Workflow
Visualize and analyze the progress of construction phases to keep projects on track with the help from drone technology.