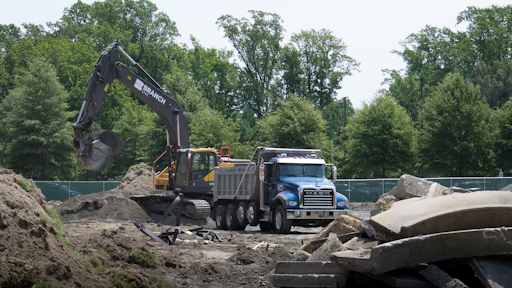 By Gregg Wartgow, Contributing Editor
It's important to approach equipment telematics thinking strategically, prepared to embrace innovations that employ GPS machine-monitoring data well beyond the shop. Telematics technology has made tremendous progress. Not only can it now inform equipment replacement decisions to improve fleet cost efficiency, but the data has the potential to revolutionize the way construction companies manage production.
While the pace of adoption is picking up, it remains slow, according to JP Giometti, director of strategy and R&D at construction software developer HCSS. Giometti oversees innovation and scouts emerging technologies for HCSS, and has served on the Association of Equipment Management Professionals' (AEMP) Technology Committee. He points to several factors slowing realization of telematics' full potential:
It's still a relatively new technology
Fleet managers are very busy with a lot of responsibilities
Data can be overwhelming – Giometti calls it "data overdose"
Some savvy fleet managers simply don't trust the data
"Telematics has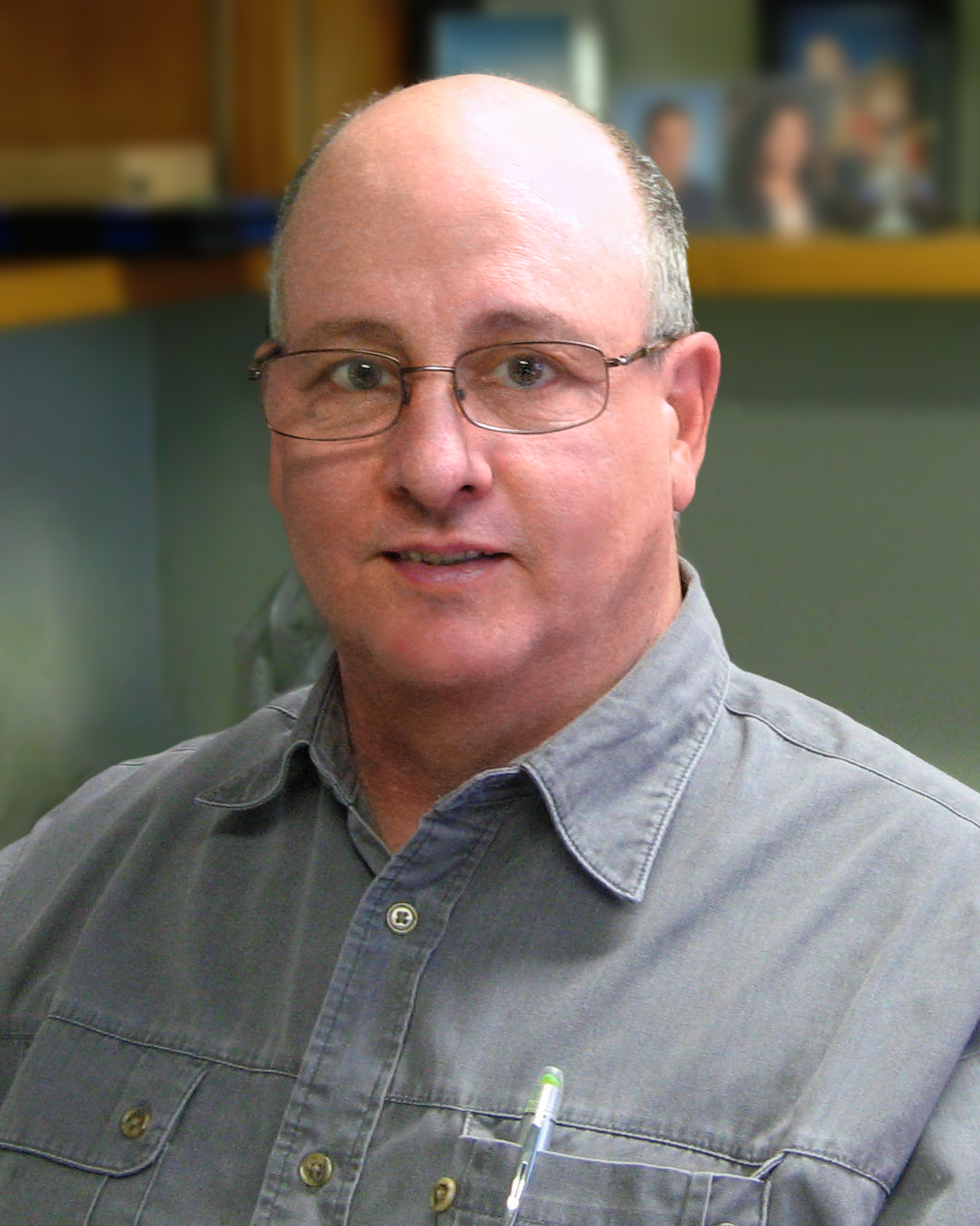 As equipment manager for Branch Civil, Tim Morgan manages machine telematics data by exception – reacting to fault codes and alerts. "We do manage those on a daily basis. Then when we think we'll need to make a repair-replace decision, we'll start digging deeper into the data to analyze where we think a machine is in its life." also gone through some growing pains as to who owned the data, where it lived, and who had access to it," says Tim Morgan, equipment operations manager for Branch Civil, a heavy-civil construction company with three Virginia offices and a fourth in North Carolina. "That's where AEMP stepped in to begin developing a telematics standard, ISO 15143-3.
"This standard is a way to ensure that all equipment manufacturers are formatting their telematics data in the same way, making it easier for fleet managers to use," adds Morgan, who started delving into telematics ten years ago through his involvement with AEMP. Morgan has served on the Technology, Education and Conference Committees, as well as the Board of Directors. This year he's serving as Vice Chair of the Board.
Mixed fleets and third-party software
The variety of equipment brands represented in most construction-equipment fleets adds a layer of complexity to realizing telematics' true value. Fleet managers must visit several different web portals, manufacturer by manufacturer, to access data from a mixed fleet. Another option, now made considerably more effective thanks to ISO 15143-3, is to use third-party software that aggregates data from several manufacturers' systems.
"This way the mixed fleet manager can see all of this important data in one place," Giometti says, adding that HCSS is one such aggregator of telematics data.
Other third-party aggregators exist and are growing in number. Many of these third-party companies also provide telematics devices (i.e. sensors) to install on equipment as necessary.
"We have close to 10 different OEM brands in our fleet," Morgan relates. "We API (application programming interface) all of our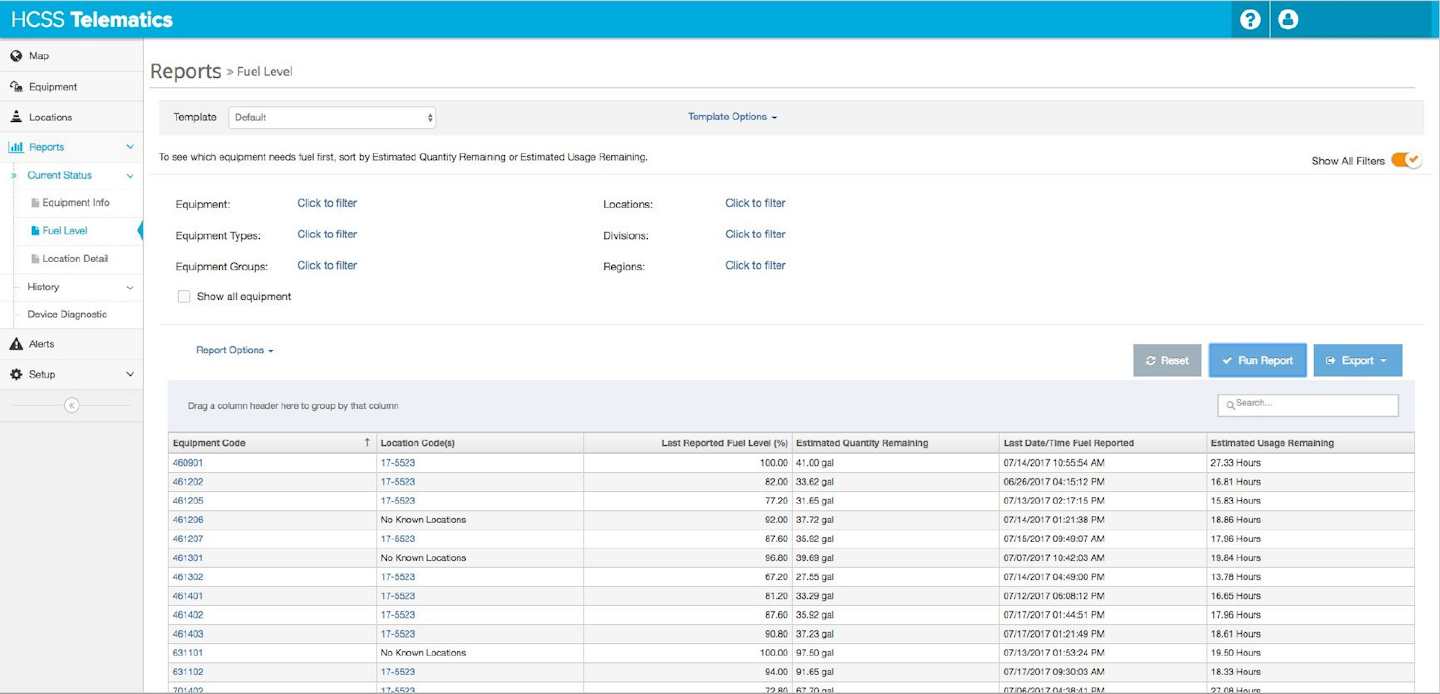 HCSS telematics software displays equipment fuel level expressed as a percentage of tank capacity, allowing you to understand real-time fuel needs across your telematics-enabled fleet. OEM telematics data through a third-party aggregator (Teletrac Navman). This allows us to manage our entire mixed fleet in one portal. Then, when we want to dig deeper into the data, we go to the individual OEM portals."
Morgan says he has purchased third-party devices to install on some of his older equipment. Any new equipment purchased must be equipped with telematics. "About 60% of our fleet is telematics-equipped," Morgan says. "Over the next several years through normal attrition, our goal is to get to 100%."
Have a telematics plan
For any company looking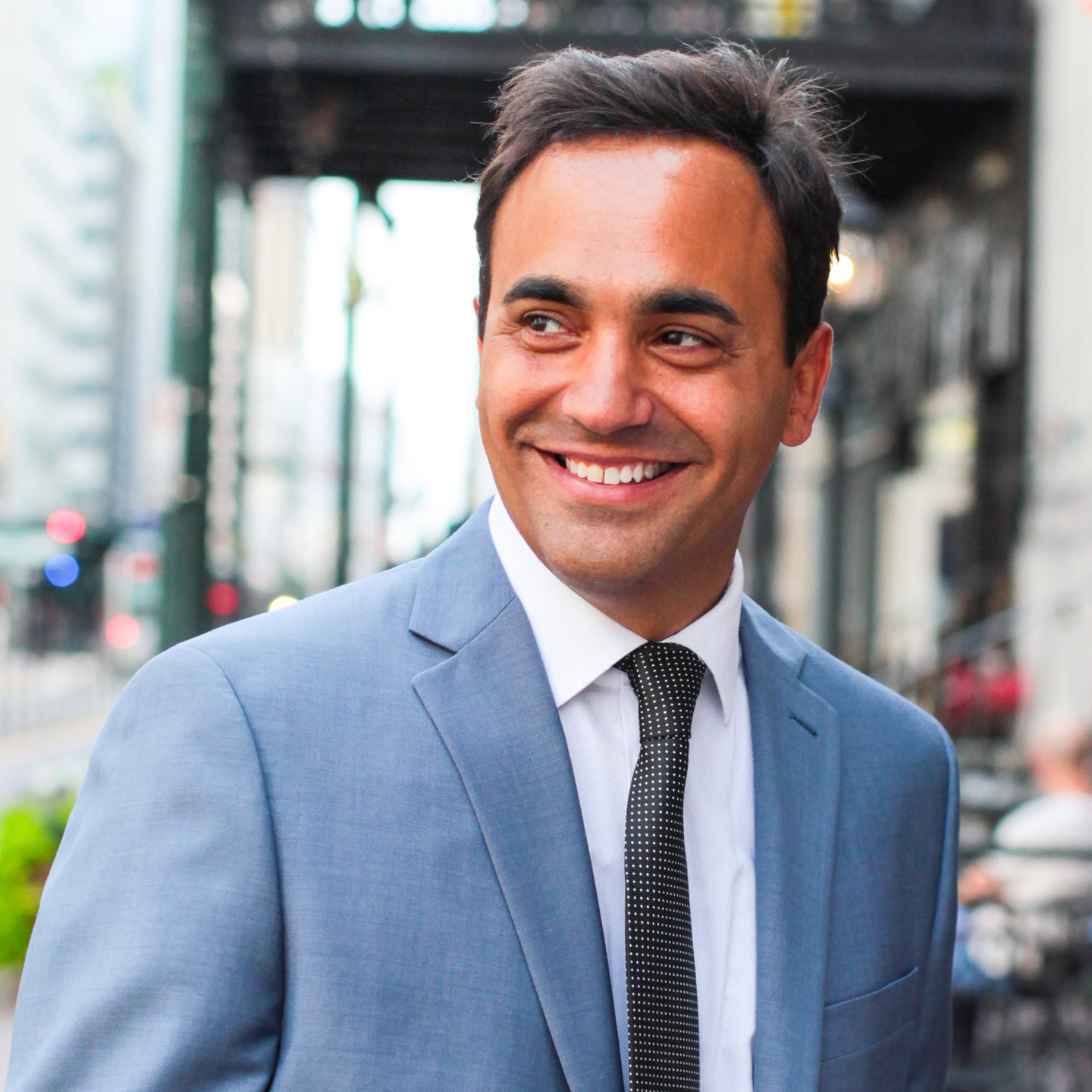 JP Giometti is director of strategy and R&D at HCSS, a construction software provider. He says that wholly embracing telematics, using the data throughout operations, can give a construction company a competitive advantage. to embrace telematics, Giometti says it's important to have a technology adoption plan with clear goals and expectations. Do you want to start with just a few machines, or perhaps a single jobsite or two? More importantly, what data do you want and what are you going to do with it?
"My best advice is to go in knowing what you are looking for," Morgan says. "Will the system provide the data you want, and in the report format you are looking for? Too many fleet managers go into this thinking the new software will be a perfect cure-all. Then when it doesn't do what they expected, it's a big problem."
Giometti says a strategic approach going into managing with telematics will create the necessary mindset to later expand your use of the data.
"Fleet managers are wearing too many hats," Giometti says. "It's beneficial to find someone else in the company to sort of partner with the fleet manager on telematics. Maybe it's someone from another department such as IT. Maybe it's a younger intern who loves technology. Now you're building a telematics cross-functional team which helps you take the entire company where it needs to go with telematics—because telematics is here to stay. Furthermore, telematics could become a source of a competitive advantage for construction companies."
5 Skills a Telematics Point Person Needs
At Branch Civil, Morgan says his job is to keep the equipment running. Another role within the company is asset manager, which is responsible for capital expenditures.
"We work closely together and look at telematics data a lot, especially when we're talking about right-sizing our fleet," Morgan says. "We look at availability reports and reliability utilization reports to help make repair-replace decisions, and even determine what types of equipment work best in different situations."
Managing equipment lifecycles
As pointed out earlier, telematics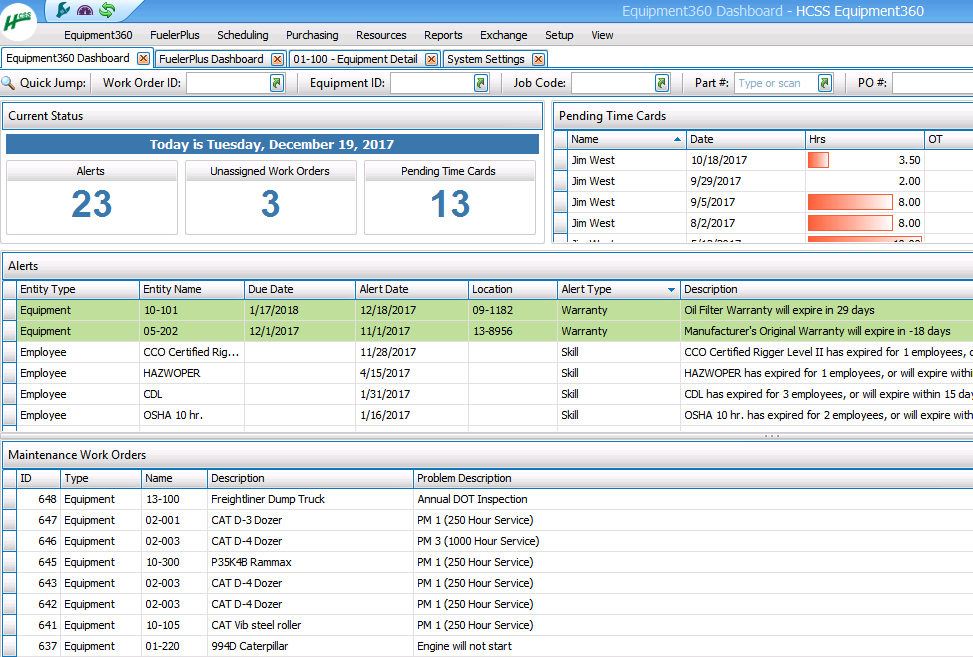 HCSS shop maintenance software has a dashboard to present various alerts such as maintenance reminders and inspection updates. has the potential to revolutionize the way construction companies manage entire production operations. It does start, however, with the equipment itself. Operating expense is what the fleet manager is interested in managing—and predicting.
"You can learn a lot about the health of a piece of equipment by how the fuel burn changes," Morgan says. "Likewise, fault codes tell you when you start having temperature fluctuations."
"Telematics enables you to automate some of your processes," Giometti says. "You could set up automatic alerts when relevant fault codes are triggered, and generate service requests and work orders. Now you can be more proactive with machine maintenance and actually plan for downtime. At the end of the game, telematics—in conjunction with big data and machine learning—will help construction companies identify when failure will happen and what can be done about it. This transformation is what keeps me really excited about the great future ahead."
Morgan says that, like a lot of things in the equipment management business, he's managing to exceptions. He doesn't necessarily go in on a daily or even weekly basis to mine telematics data. Rather, he's reacting to fault codes and alerts. "We do manage those on a daily basis," he adds. "Then when we reach a point where we think we'll need to make a repair-replace decision, we'll start digging deeper into the data to analyze where we think a machine is in its life."
A piece of equipment is put on a multi-year depreciation cycle. Morgan says he likes to get 8,000 to 10,000 hours out of something, depending on the type of equipment and application. There are a few things he looks for when deciding whether or not to pull a machine from the fleet.
"We look at how much it idled vs. actually worked," Morgan relates. "We look at the fault code history. Did it have any electronic problems? What about hydraulic issues? Then we look back through the maintenance and repair history. What have we already replaced in terms of components? Maybe we can get more life out of something if we just update some key components that haven't been updated yet. Telematics data doesn't provide everything we need to know, but it plays an increasingly important role."
Untapped telematics opportunity
Applying telematics data to decisions through more of the machine lifecycle and in managing construction operations starts with sharing information.
Giometti explains, "This data can be shared with people from your finance department. Are repair costs beginning to escalate in an unsustainable way? Or maybe the utilization rate on a piece of equipment is so low that you can consider pulling it out of service and selling it. You might have 10 pieces of equipment, and most of them are only at 20% utilization. Maybe you can downsize to eight machines."
How to Unlock the Construction Profit in Equipment Telematics
You can share your telematics
Equipment tracking is typically where a construction company gets started with telematics. HCSS telematics software offers robust map view reporting so you can see your entire mixed fleet at any time, all in one place.data with distributors to help solve problems and plan parts purchases, as well as coordinate any rentals. Location, fuel-level and usage data shared with fuel suppliers, for another example, can help coordinate on-time deliveries. Telematics data that indicates safe operator behavior can be shared with insurance providers to reduce your premiums.
HCSS is focusing on creating workflows around telematics data. "For example, through telematics you know the working hours of a piece of equipment," Giometti explains. That data helps you to stay on top of preventive maintenance procedures. "But you can also use that data to populate an employee time card, as opposed to doing it manually," Giometti adds.
This is where telematics can become very powerful. "In the first years of telematics, it was really just about GPS and machine tracking," Giometti says. "Now it's about using all of this data to make better management decisions: real-time, data-driven decisions right on the jobsite."
Giometti's view is that less than half of construction companies are using telematics to some degree. Then, just 10% are really leveraging telematics in a holistic way to improve safety and productivity, and to drive down costs.
And what about your employees themselves? Could telematics tracking devices be used to monitor employee activity? Probably so. But then again, it's probably best to allow your site foremen to do the managing. Regardless, the point is to show that telematics data can be used to improve your control of the entire production operation.
"We've spent a good amount of time as an industry getting telematics to where we can take better care of our machines," Morgan adds. "Now we're moving more into production management. We can make telematics as much a production tool as a fleet management tool. Then telematics adoption will skyrocket and be a great help to the construction industry."