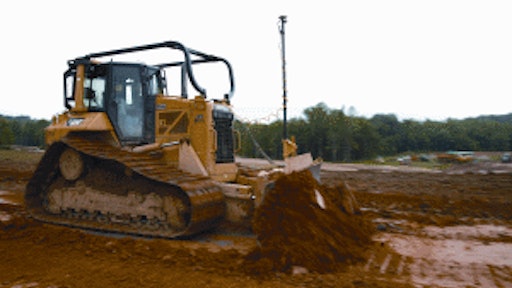 To business leaders, aggressive moves may appear to be strategically counterintuitive during an economic downturn such as the world is currently experiencing. However, firms that invest in new technologies will not only position themselves for explosive growth when macroeconomic conditions improve but will also lead the recovery by setting higher standards for productivity.
In industries that use heavy equipment, such as highway construction, companies have the opportunity to acquire new machine-control and telematics technologies, and position themselves for growth and market dominance once the recession ends.
A popular topic of discussion during the current global economic downturn has been how companies in all industries should behave in times like these.
Experts say that business leaders should adopt the same contrarian approach as wise stock investors: rather than delay capital spending, they should take advantage of a rare growth opportunity. The opportunity exists because most others have fallen victim to irrational fears and are conserving funds.
Ray O'Connor, president and CEO of Topcon Positioning Systems (TPS), rates as a contrarian who does not follow the crowd. His company acquired Sokkia Co. Ltd. in February 2008 - several months after the U.S. economy had sunk into the current deep, prolonged recession - to form the world's largest leading supplier of surveying equipment. The transaction grew the largest division of Topcon, which happens to operate in an economic sector hit particularly hard by the downturn.
O'Connor indicates that, for construction and surveying companies, cutting-edge technology will be their way out of the wilderness.
"You have three choices: Give up and figure out what you are going to do in the future, do absolutely nothing, and hunker down and try and ride it out, or position your company and yourself to increase your share of the diminishing market," O'Connor says. "This means taking advantage of every opportunity the bad times provide and being in a position to dominate the market when the hard financial times end."
Visionaries such as O'Connor realize that, more than ever, companies embracing increased productivity through technology will drive the world's economic recovery. The current economic recession provides a rare window of opportunity for forward-thinking companies in the construction, survey, civil engineering and agriculture markets.
In tough times, increasing productivity through the adoption of technological breakthroughs can mean the difference between success and failure. A factor that makes technology adoption easier is the relative affordability of the new technologies -made possible by low demand among competitors and thus low prices.
Productivity-enhancing technologies
The days when getting more work done meant working overtime are gone. Two examples of recent productivity advancement in the area of geomatics are machine control for earthmoving, grading and paving equipment, and telematics.
Machine control, which primarily relies upon the capture of Global Navigation Satellite System (GNSS) signals by a machine-mounted receiver and software-assisted manual or automatic control of grading blades, has been available for several years.
But machine-control capabilities recently have grown via technological advancements. An example is Topcon's 3D-MC2 system which, according to tests, can allow grading with twice the productivity of other systems and four times the productivity of grading without the use of machine control.
The system's MC2 sensor combines a gyro, compass and inertial sensor to measure the X, Y and Z position as well as the roll, pitch, yaw and acceleration of a dozer and can provide blade position readings up to 100 times per second - or roughly five times as many as standard systems.
Double the productivity can mean that a single dozer can replace two that would otherwise be needed on some projects. Finally, twice the productivity can even allow a contractor to take on twice as much work without incurring major additional capital costs.
About one year after the system was unveiled at ConExpo-Con/Agg in Las Vegas in early 2008, John Deere launched its new 764 HSD (High-Speed Dozer), which combines the speed of a grader with the flotation of a crawler dozer and, in conjunction with the 3D-MC2 system, can double productivity again.
In recent years, operators of heavy equipment have begun to embrace an emerging practice in operational efficiency: asset management.
This discipline involves capturing and analyzing real-time or historical data for the purpose of optimizing machine utilization.
Functions include locating individual machines in real time and ensuring that they are as productive as possible while in operation, and tracking individual machine or fleetwide operating data for preventive maintenance scheduling.
Telematics, the wireless exchange of electronic information for fleet monitoring, is a powerful technology used in asset management.
Telematics systems such as the Topcon Tierra remote asset management system wirelessly communicate engine operating data to a Web-based network for real-time monitoring and historical data also can be analyzed using dedicated software. Managers can run reports on how many machines idled a certain percentage of time, for example. The GNSS-capable Tierra system allows a fleet manager to check operating parameters like oil pressure or even obtain an in-cab view of the jobsite on a computer screen anywhere in the world.
Opportunities are there
Companies that embrace technologies such as machine control and telematics will not be crawling when the economic turnaround happens. They will be running full speed and growing their business exponentially because they took advantage of existing opportunities.
Despite the present economic conditions, there are still new projects up for bid. The U.S. government is poised to undertake the most extensive public works project in the nation's history. Billions will be spent on construction projects and competition for this work will be fierce.
In the construction industry, it will be the survival of the fittest - or, more accurately, those companies that took a calculated risk and invested in the best available technology will not only survive but also thrive.
Don Talend of Write Results Inc. ( www.write-results-p3.com) is a print and e-content developer specializing in technology and innovation. He can be contacted at (847) 836-7010 or [email protected].
Companies in this article