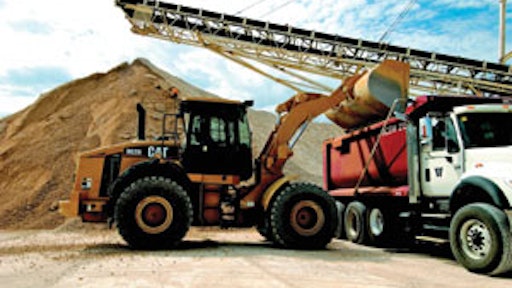 Two new Caterpillar H-Series medium wheel loaders, the 950H and 962H, feature key changes to enhance productivity and reduce owning and operating costs. New Cat engines featuring ACERT technology provide increased power and US EPA Tier 3 emissions compliance for the new loaders. A new load sensing hydraulic implement system works more efficiently for improved fuel benefits of 4 to 7 percent and a 20-percent increase in lift force over the previous models.

Along with improved productivity, enhanced operator comfort and serviceability have been built into the 950H and 962H. Key changes include electro-hydraulic implement controls with simultaneous lift and tilt capabilities and centralized hydraulic and electric service centers for improved maintenance.

The 950H produces gross power of 216 hp and handles buckets of 3.3 to 4.6 cubic yards. The 962H produces gross power of 230 hp and uses buckets of 3.8 to 5.0 cubic yards.

The new proprietary Load Sensing Hydraulic Implement System is a closed loop system that automatically adjusts to operating conditions to provide only the hydraulic flow required by the implement. The result is optimum fuel efficiency.

The 950H and 962H offer enhanced serviceability with a redesigned hood and counterweight and key changes to maintenance points. For ease of maintenance, grease fittings have been grouped on the right side of the machine in two convenient locations. An access panel below the right side service platform covers all the remote pressure ports for the steering, hydraulic system and brakes. A new hydraulic service center is located in a swing out door just below the right side access platform.
FilterSense Smart Particulate Monitor
The new FilterSense continuous particulate emission monitor and baghouse leak detector incorporates Automatic Self Checks and Signal Diagnostics to improve performance and to eliminate manual calibration audits as required by the EPA for MACT and CAM regulations of fabric filter dust collectors. Benefits include EPA compliance, eliminating cleanup costs, preventing the escape of valuable powders and protecting downstream equipment such as blowers and HEPA filters.
Stone Wolfpac 4100 Asphalt Roller
The Wolfpac 4100 from Stone Construction Equipment is a 40-inch-wide, double-drum drive, double-drum vibration asphalt roller suited for confined area asphalt compaction of base, binder and finish coats. Unit's design allows vibration to be directed to both drums, the front or the rear drum. Features include 4,000 pounds of impact per drum, 24.8-hp water-cooled Kubota diesel engine and pressurized water system with a gravity-feed back-up.
Terex Pegson Cone Crushers with Automax
Terex Pegson cone crushers feature the "all-in-feed" Automax design which gives much better throughput, shape and reduction for secondary, tertiary and quaternary use. Automax crushers are available in 1,000 and 1,300 sizes as base units or track mounted. Automax crushers are also unique for what they do not have. There are no plain bearings, which are difficult to lubricate under extreme load conditions and create the high frictional losses. There is no "bowl bounce" to cause costly seat wear under extreme conditions. There is no spider bearing above the cone head to cause blocking on secondary applications. Unit has no accumulators for tramp metal release; they are expensive to refill and require specialized maintenance. And there are no bushings or bronze bearing seats which absorb high power levels when the crusher is working at its optimum. Manganese changes are also very simple using the special Terex Pegson wedge release system and one-piece upper frame.
Libra Chameleon Document Imaging
Libra Systems introduces Chameleon Document Imaging, which captures, routes and keeps within easy access all plant/scale tickets, as well as documents for accounts payable, job tracking, equipment management, property management, and human resources. Chameleon makes it easy to scan and read the ticket number using Optical Character Recognition. The ticket number is merged with the information captured by the batch control, silo loadout control, or truck scale ticketing system. This then ties the scanned copy of the ticket with all the indexes or parameters you have entered into your plant automation or scale ticketing system. The system allows users to find a specific ticket almost instantly; find a group of tickets with this months date range for a specific customer; e-mail, fax or print a ticket or group of tickets in seconds; find a group of two year old tickets just as quickly; and find a use for all the storage space you no longer need. Other applications supported by Chameleon include Invoice Routing & Approval, Document Manager and HR Records.
Companies in this article