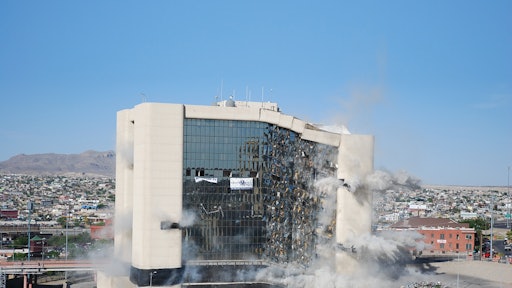 Information from this article was first published in Demolition Magazine and is being reused with permission from the National Demolition Association.
In seconds, 263 pounds of dynamite ignited, bringing down the 34-year-old El Paso City Hall, a 227,000-square-foot, 11-story building plus penthouse in the heart of El Paso City. It was at least the third city hall built during El Paso's history. The decision to demolish the building was made as the city was making way for the new $60 million El Paso Downtown Baseball Stadium, soon to be home to the Triple-A minor league team, the El Paso Chihuahuas, which is scheduled to begin playing there in Spring 2014.
The City of El Paso selected Jordan-Hunt Construction a joint venture to build the new stadium. Grant Mackay Company, headquartered in West Bountiful, Utah, and an NDA Member, won the demolition contract and assembled a team that included fellow NDA Member Controlled Demolition Inc. (CDI of Phoenix, Md.), one of the world's leading implosion companies.
Grant Mackay was given two weeks to prepare the building for implosion and a little over three weeks to haul off the debris and concrete foundations. The company assembled a "dream team" for this project, led by Wayne Rowley and Nephi Mackay.
One of the more difficult aspects of this job was its close proximity to several major rail lines (less than 40 feet) and a major Interstate freeway. In addition, Grant Mackay had many different public and private entities to coordinate with to make it work. CDI's Mark Loizeaux and Ray Zukowski, working with Grant Mackay's Project Manager Ron Turner and the Jordan Hunt Team, were key in getting all the engineering information to the right people. The full team worked together with the Union Pacific Railroad officials, answering all of their concerns.
The methodology for the implosion was prepared by CDI and approved by El Paso City Engineers. The prep work included soft strip of levels eight, four, one and the basement; dropping and removing elevators and escalators; and removing parts of the sheer wall so CDI could drill and shoot them.
Grant Mackay removed exterior windows and walls on levels eight and four to create access for small equipment. Using a 100-ton crane and a purpose built loading platform, the company placed Bobcat skid steers and small excavators with 500-pound hydraulic hammers on these floors. The company used this equipment to remove non-load-bearing walls, jack hammer sheer walls, demolish stair cases and remove debris from floors, while rebar in sheer walls and elevator frame rails was cut out with a torch. As Grant Mackay cleared level eight, CDI followed close behind, drilling and setting charges for the implosion.
Post-implosion clean-up was completed in record time. Grant Mackay had as many as seven excavators working in unison to sort through the pile of rubble, pulling out the steel, copper, rebar, aluminum and other metals for recycling and loading up to 20 trucks. They hauled over 1,600 loads of concrete, debris, ferrous and non-ferrous material - or a total of 64,142,261 pounds of material. The contractor Jordan Hunt and the City Engineer praised Grant Mackay for its work on site.
Grant Mackay utilized a full time safety coordinator, who adopted a very comprehensive safety program, enabling the contractor to complete the project several days ahead of schedule, under budget and with no lost time or injuries.