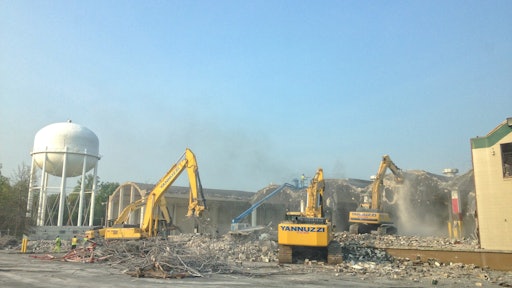 The challenge:
Demolition and asbestos abatement at 70-acre site of a 1-million-square-foot former naval storage facility during the winter months
The players:
Yannuzzi Group
The process:

Information from this article was first published in Demolition Magazine and is being reused with permission from the National Demolition Association.
Late last year, Yannuzzi Group, headquartered in Hillsborough, N.J., won the contract for the demolition and asbestos remediation of a one-million-square-foot former naval storage facility located just outside of Harrisburg, Penn., with the bulk of the work to be done through the tough winter months into 2014.
Yannuzzi's project team worked directly with local municipal officials and the building owner's engineer to expedite all utility disconnects running throughout the 70-acre site. Included with this part of the project was re-routing the fire suppression system running through the site to ensure the fire system would remain operational to the remaining buildings. This was all done within a five-day period.
With more than 800,000 square feet of barrel roofing, the asbestos abatement project was quite a challenge. Yannuzzi kept ahead of schedule, even with the excessive amounts of snow dumped on the Northeast last winter. A local abatement company, with a crew of 35, was contracted to handle the removal of the ACM roofing from the large area of barrel roofing. With the work completed ahead of schedule, demolition of the facility could begin earlier than expected.
Yannuzzi mobilized an arsenal of hydraulic excavators, loaders, end dumps and concrete crushers on the project. The company successfully demolished and processed a remarkable 5,000 tons of #10 rebar, which was prepared to 4 feet minus and sent to vendors as #1 product. Three Komatsu PC600 hydraulic excavators equipped with LaBounty UP75SV attachments and 10 Komatsu PC450HD excavators equipped with LaBounty CP100 attachments made quick work of the 18-inch poured barrel roof with #10 rebar placed 6 inches on center.
With enough of the superstructure removed, the company mobilized two closed-circuit impactors to process the concrete for backfill. Yannuzzi's crushing crews worked two consecutive shifts to manage the concrete debris that was being produced daily, approximately 4,000 tons a day. As its above-grade demolition crew moved forward across the building slab, a sub-grade demolition crew began the selective slab demolition, careful not to damage portions of the slab, as it was to remain for future construction.
As the next step, Yannuzzi saw cut approximately 2,500 linear feet of slab, leaving the adjoining part of the warehouse remaining. Company engineers managed this process to ensure that the remaining section of the structure, which housed a tenant, would not be disturbed during the removal process. With this multi-disciplined approach, Yannuzzi was able to move the final contract completion date up by two months.