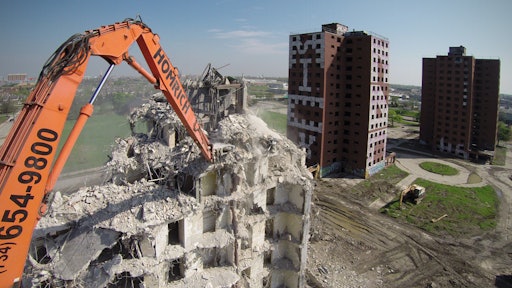 Information from this article was first published in Demolition Magazine and is being reused with permission from the National Demolition Association.
Homrich, the Detroit-based demolition and environmental contractor which marked its 50th anniversary last year, was awarded two separate contracts from the Detroit Housing Commission to perform the total demolition of the Brewster-Douglas housing project consisting of 18 buildings located on 32 acres in downtown Detroit.
The storied complex was once home to such notable figures as Diana Ross and the other members of The Supremes and was the largest residential housing project owned by the city. The complex was built between 1935 and 1955 and was the first federally funded public housing development open to African Americans.
The first phase of the project involved the demolition of 12 two-story Douglas Rowhouse buildings and adjacent six-story buildings known as the high-rises. In all, the buildings contained more than 470,000 square feet of space. During the initial phases of demolition planning, it was discovered that the entire concrete frame of the high rises was coated with an asbestos-containing mastic material as well as other asbestos-contaminated material (ACM). Since Homrich is also a licensed asbestos contractor, the Commission decided to give both the demolition and asbestos abatement contracts to the company to perform.
Homrich's staff performed the demolition project as a Class 1 asbestos removal project, wearing Tyvek suits and respirators when needed. The contractor utilized its Hitachi 800 Ultra High Reach, in combination with an old-fashioned wrecking ball hung from a 200-ton truck crane, to safely demolish four 15-story high-rise buildings. Once leveled, the debris could be reached by a variety of Komatsu Excavators (PC710, PC400 and PC800) to finish the process. Dust Boss misting units controlled emissions generated during the project.
In all, Homrich handled 75,000 tons of ACM; 30,000 tons of concrete and 2,500 tons of scrap metal. It also delivered more than 48,000 tons of backfill material to the site to bring it up to grade. Topsoil and seeding provided a green field, making the site ready for redevelopment in the near future.