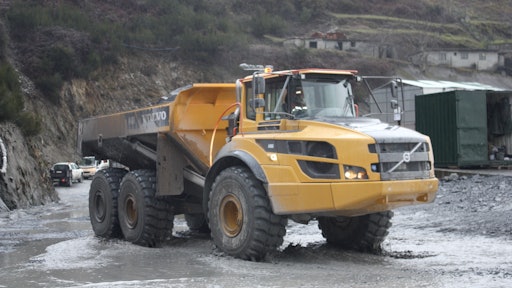 The challenge:
Building a new road tunnel through Portugal's sixth largest mountain, the Serra do Marão.   
The players:
Empresa Portuguesa de Obras Subterrâneas
The process:
A new government-funded project to extend the A4 motorway from Porto, which currently stops at Amarante — all the way to Vila Real — will create a new road incorporating two parallel tunnels running east to west, and will significantly speed up travel time between Porto and Vila Real, reduce the number of road accidents in the area and open up the Douro and Trás-os-Montes regions for further development.
With each tunnel measuring approximately 3.5 miles in length (almost 8 miles of tunnel in total), the Túnel do Marão, when completed, will be the largest road tunnel in Portugal — and one of the largest in the Iberian Peninsula (including Spain). Given this immense scale, underground construction specialist, EPOS (Empresa Portuguesa de Obras Subterrâneas), which is already behind some of the most important road and rail tunnels in Portugal, Spain and Algeria, was an easy choice for the tender.
EPOS began work on the twin tunnels in October 2014 and plans to finish the concreting and paving stages of the project by February 2016. Still at the excavation stage, EPOS has currently excavated around 35% of the total length. Integral to the success of the project, the contractor is using 22 Volvo Construction Equipment (Volvo CE) machines, 13 of which were purchased shortly before the project began. Part of a larger 71-strong fleet, provided and serviced by independent dealer Ascendum Portugal, EPOS's Túnel do Marão contingent, includes four Volvo EW140D wheeled excavators, four L220H wheel loaders and 14 A40G articulated haulers.
EPOS chose Volvo construction equipment for its high productivity, low fuel consumption and reliability.
"On a project like this, where work continues around the clock, 30 days a month, 100% machine availability is one of our biggest requirements — we cannot risk delay due to unscheduled downtime," says Dias de Carvalho, EPOS's general manager of 20 years. "I have relied on Volvo Construction Equipment for decades and the quality of the machines, their ease of maintenance and the service provided by Ascendum Portugal has never let me down."
Companies in this article