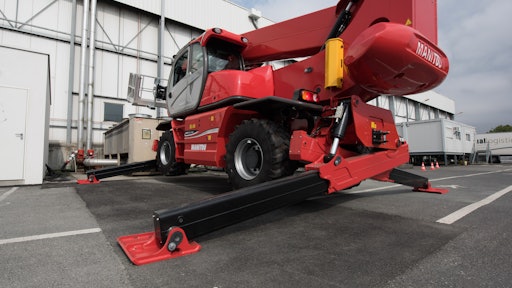 The 2018 edition of INTERMAT 2018, the international exhibition for construction and infrastructure, housed 1,400 exhibitors in indoor and outdoor exhibits, as well as multiple demonstration sites from April 23 to 28. An estimated 173,000 visitors flocked to the Paris-Nord Villepinte Exhibition Centre, including 30% from 160 countries, amid clear signs of an economic recovery and a distrinctively business-friendly climate.
Exhibitors pulled out all stops when it came to the products and technology on display. Following are just a few of the highlights from the triennial event. Additional images from the show highlights can be found in the media gallery at www.ForConstructionPros.com./21003780. 
NOTE: Not all of the equipment, products or services displayed at this event are currently scheduled for North American distribution. Please contact the manufacturer to determine availability.
Volvo Shows New Products, Assist Technology
Volvo showcased three new short-swing radius machines – one crawler, the ECR355ENL; one wheeled, the EWR170E; and one compact, the ECR18E. These machines are suited for jobsites where space is limited, and offer low noise, fuel consumption and emissions. Another highlight was the INTERMAT Innovation Award-winning EX2, a100% electric compact excavator prototype.
Volvo also presented the new P6820D paver with the new EPM3 electronic paver management system and Pave Assist, along with the DD105 asphalt compactor, now available with oscillating drums. Other notable machine launches included the L260H wheel loader in Europe and the upgraded L180H wheel loader with all-new drivetrain.
Intermat also saw the European debut of Haul Assist and Dig Assist, the Volvo Co-Pilot applications designed to deliver real-time data to the screen in the cab. The Haul Assist function can also incorporate information from Volvo's optional On-board Weighing.
Learn more at www.ForConstructionPros.com/21004783.
Wacker Neuson Highlights Zero Emissions
At the only indoor product demonstration at INTERMAT 2018, visitors were able to experience the full range of the zero emissions line of the Wacker Neuson Group. Two battery rammers, the dual-power excavator, two electric wheel loaders and an electrically operated track dumper were available in the test area. One of the highlights was public debut of the all- new AP1850e electric vibratory plate and the EZ17e all-electric zero tail excavator.
Thanks to its intelligent loading management, the EZ17e can be driven by a battery or plugged into the grid and can be charged simultaneously. It is especially suited for environments in which exhaust fumes and noise should be avoided.
The AP1850e single-direction vibratory plate is the only battery-driven plate on the market. It is particularly suited for compaction of granular surfaces and asphalt. The modular concept provides flexibility and efficiency by allowing use of the battery also found in Wacker Neuson battery-powered rammers.
Learn more at www.ForConstructionPros.com/21004794.
Mecalac 100% Electric Excavator Targeted to Urban Sites
Mecalac also highlighted electric technology with the introduction of a 100% electric machine designed for urban building sites. The 11,000-kg e12 is an electric version of the 12MTX. The housing used for the internal combustion version of the 12 MTX now incorporates LiFePO4 battery technology, a combination of iron and phosphate for three times as many charge cycles.
The e12 features a compact structure designed for the city environment and two independently operating electric motors — one powering the excavation mechanism and one for movement. The 100% electric transmission offers optimal tractive force as soon as the engine is started, with brake energy regeneration. The unit has a charging station that can be used to recharge it on site in six to seven hours. It can work all day without needing to recharge its batteries — a range of eight hours at the highest power output. 
Learn more at www.ForConstructionPros.com/21004798.
Manitou Develops FutureMaterial Handling Solutions
The Manitou Group used the 60th birthday of its first Manitou forklift truck to give visitors a sneak preview of two new models. With loading capacities of 2.5 tonnes and 3 tonnes, the MC 25 and MC 30 models have ground clearances of 30 cm, making clearing obstacles easy. There are also four-wheel-drive versions for negotiating rough and steep terrain.
The company's MRT 2470 rotating telehandler won a prize in January at the INTERMAT Innovation Awards for its stabilization system and made its debut at an international show. With a lifting capacity of 7 tonnes and a maximum reach of 24 m, the MRT 2470 is a high-precision handler that provides users with increased safety during heavyweight handling operations at heights.
Also on hand was the upgraded RT 215 compact track loader with new hydraulic control system, the Mustang 4200V skid-steer loader with new 120-hp Deutz engine, the MT 420H ultra-compact telehandler and more.
Learn more at www.ForConstructionPros.com/21005033.
BOMAG Focuses on Equipment and Digitalization
BOMAG displayed its entire portfolio of compaction equipment for soils, asphalt and refuse, plus its range of stabilizers/recyclers, planers, and pavers. Also on display were the RS 500 stabilizer/recycler with side-shifting milling rotor, and the tandem roller model with new Tango4 exciter system, offering oscillation plus split drum for the first time.
As part of the 360° technology concept, BOMAG presented new Tango4 technology for tandem rollers with pivot steering. Tango4 produces sensitive compaction where needed and is particularly useful on bends due to lower shearing forces.
BOMAG dedicated an entire area of its stand to the topic of digitization. In the Digital Corner, visitors could use virtual and augmented reality to find out more about the company's pioneering digital solutions, from the new BOMAG 360° technology for the compaction of asphalt through to the smart Digital Field Service for construction machinery.
Lean more at www.ForConstructionPros.com/21004662.
Liebherr Showcases New Earthmovers
Liebherr presented its new series of stereo loaders, with two smaller models celebrating their world premiere. The larger L 514 and L 518 were launched last summer. The L 514 Stereo is suitable for communal services and road construction, and provides reliable assistance for a range of applications. The larger L 518, a completely new model in the company's range of wheel loaders, is designed for industrial use such as recycling operations with solid rubber tires
Also making its premiere was the A 914 Litronic Stage IV wheeled excavator. With an operating weight between 14,900 and 17,200 kg and an engine power of 105 kW/143 hp, it adapts for both classic earthmoving and road, sewer and pipeline construction. The machine delivers high traction for rapid acceleration, as well as high load bearing capacities and digging forces.
Learn more at www.ForConstructionPros.com/20992580.
Bell Exhibits 4x4 Concept
Bell Equipment is growing the four-wheel-drive concept with the B30E 4x4. The 21,5-tonne articulated dump truck offers sound all-weather characteristics on undulating haulage roads and light terrain and provides better maneuverability in confined material handling areas or stockyards.
The two-axle truck is based on the 6x6 model B30E and shares the front chassis and oscillation/articulation joint. This includes a 246-kW Mercedes-Benz engine, six-gear Allison automatic transmission with integrated automatic retarder and a comprehensive package of productivity, safety and ease of operation features. These features are based on real-time data collection by the truck's sensors (onboard weighing, pitch/roll sensor, etc.) and are controlled by embedded software in the truck controller.
Learn more at www.ForConstructionPros.com/20995728.