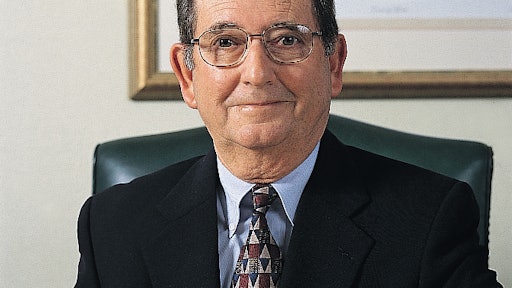 FORT WAYNE, IN - Deister Machine Company, Inc., announces that co-owner & chairman Irwin F. Deister, Jr., has recently celebrated 60 years of service to the family-owned company, which is nearing its century-long mark as a leading manufacturer of feeding, scalping and screening equipment for the aggregate and mining industries.
Irwin F. Deister, Jr., chairman, and E. Mark Deister, president, represent the family's third generation at the company's helm. Irwin and Mark act as co-chief executive officers, each owning 50 percent of the shares, and together forming the board of directors.
Their grandfather, Emil Deister, who designed and built one of the first ore separating tables, founded the company in 1912 and began operations in a 5,500 square-foot plant in Fort Wayne, IN. The original plant is still in use amidst a total operation that today spans more than 350,000 square feet within its four factory facilities.
Irwin Deister is a past chairman of the Manufacturers and Services Division of the National Stone Association, while Mark Deister served as chairman of the National Aggregates Association. Each is a life member of the board of the NSSGA, and both are dedicated to ongoing community service and a policy of donating five percent of annual profits to local charities.
The Deister team is also committed to its 160-member employee family, many of whom have served the company for 20 to 40 years and beyond. The entire organization is committed to maintaining long-term customer relationships developed over decades of superior support and service that has resulted in the innovations, improvements and customization of Deister equipment.
Before starting full time with the company in 1951, Irwin Deister attended the University of Michigan, where after completing two years in the Engineering School, he transferred to the Liberal Arts Department and received his Bachelor's Degree in 1951. He is also a veteran of the U.S. Army where upon completion of study at the U.S. Army Finance School at Fort Benjamin Harrison, IN, he was retained there as an instructor for 1 ½ years. He has been married to his wife, Jane, for 54 years and is the father of two daughters, and a grandfather of four.
Following in the footsteps of their fathers and grandfather, who remained "on the job" well into their 90s, neither Irwin nor Mark are planning to retire anytime in the near or even far future. Each feels that "it is a pleasure and a privilege to serve this industry."