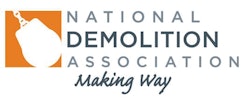 The National Demolition Association announces the addition of four new demolition professionals to its 2012-2013 Board of Directors.
Newly named to the Board are Alfred Gorick, Jr. of Gorick Construction Co., Inc., Binghamton, NY; Scott Homrich of Homrich Wrecking Inc., Carleton, MI; Richard Lorenz of Central Environmental Services, Apopka, FL; and Craig Sessler of Sessler Wrecking, Waterloo, NY.
Continuing as the Association's officers are Don Rachel of Rachel Contracting, LLC, St. Michael, MN as president; Jeff Kroeker of Kroeker, Inc. Demolition & Recycling Contractors, Fresno, CA as vice president; Peter Banks of CEI Boston LLC, Norfolk, MA as secretary; Scott Knightly of Envirovantage, Epping, NH as treasurer; and Paymond Passeno of Bierlein Companies, Inc., Midland, MI as past president. Michael R. Taylor, CAE, serves as executive director.
Companies in this article