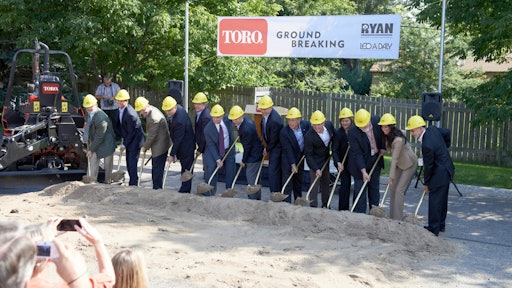 The Toro Company recently broke ground on a $25 million expansion in Bloomington, Minn., that the company has called home for over 50 years. The project begins the process of expanding the company's product development and test capacities, demonstrating its continued commitment to innovation.
"We are investing in our Bloomington facility to enable our businesses to continue to meet the needs of our customers," said Michael J. Hoffman, Toro's chairman and chief executive officer. "With the anticipated growth of our businesses, through ongoing product development and the addition of recent acquisitions taking us into new markets, this investment will help to expand our technical capacity and further the innovation our customers expect. As we celebrate our Centennial next year, this project will help position us for the future and reinforce our commitment to innovation, our customers, and our employees."
The 75,000-square-foot expansion is scheduled for completion in the summer of 2014. Toro moved to its Bloomington, Minn., location in 1952, opening a research and development facility, and later its headquarters in 1962. The last major addition to the facility came in 1997.
The construction effort is being led by Minneapolis-based Ryan Companies US, Inc. and LEO A DALY LLP is the architect on the project.
Companies in this article