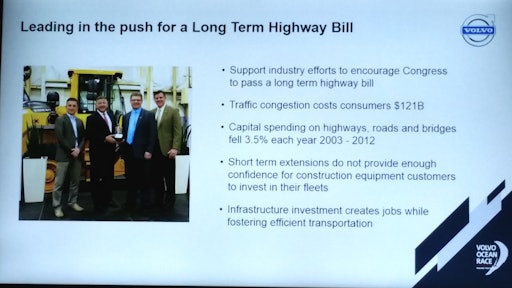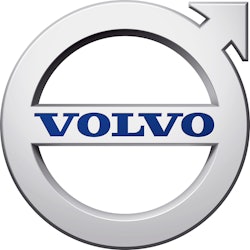 Goran Lindgren, president, Region Americas, Volvo Construction Equipment (Volvo CE), has been on Capitol Hill several times over the past several months stumping for long-term highway legislation, but the results have proven frustrating to say the least.
"It's totally a shame," he said during a press briefing last week at the Volvo Ocean Race stopover in Newport, RI. "Everyone knows what they need to do and they just can't get it done."
He's referring to highway funding reauthorization, which was put off last July when Congress passed a bill that provided temporary funding of the Highway Trust Fund through May 2015. The only outcome of this temporary extension thus far is a push from House Republicans for another two months to come up with a solution.
House Republicans Introduce Extension to Allow Transpo Spending Through July

The Highway Trust Fund has seen cash reductions for a number of reasons, including insufficient fuel taxes. Lindgren pointed out that resulting capital spending on highways, roads and bridges has fallen 3.5% each year from 2003 to 2012.* This impacts not only infrastructure improvements, but the overall economy and the health of the job market.
The Volvo Group is advocating for well-funded full six-year reauthorization legislation to address the persistent challenges facing U.S. transportation and infrastructure. Unfortunately, Lindgren fears this is unlikely. He believes the most likely outcome is another short-term fix similar to MAP-21, which covered funding for a two-year period.
Such short-term funding extensions don't give contractors the confidence needed to reinvest in their businesses. This in turn stifles manufacturing growth. According to Volvo CE, a more sustained and focused effort is necessary to help put the country's infrastructure on more solid footing.
Consequently, Volvo CE believes the best means to secure long-term financial health of the Highway Trust Fund is multi-year surface transportation authorization, with funding based in a highway user fee, as supported by many manufacturers, equipment dealers and construction industry organizations. The company urges as stakeholders to urge Congress to take this approach.
*Based on a recent National Association of Manufacturers study entitled "Catching Up".
Companies in this article