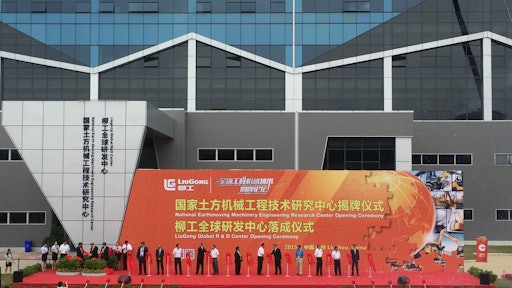 LiuGong held the inauguration of its new global Research and Development Centre in Liuzhou, underlining the company's long-term commitment to durative innovation, as well as to future technology.
The initiative will expand the company's R&D capability and is a major milestone. With the world-class hardware in the new R&D center, a state of the art testing platform, modern manufacturing plant, as well as the 1,000+ top quality technical team, LiuGong has entered a new era of R&D.
"The newly opened R&D center shares the responsibility to break the bottleneck of technology development for the CE industry," said Xue Yiping, Vice Chairman of China Machinery Industry Federation.  
Key facts about LiuGong's Global R&D Centre
Based in Liuzhou, the global R&D center will be the new hub that influences LiuGong's four other world-class R&D facilities in India, Poland, United States and the United Kingdom.
The modern facility spans 110,000 square meters and includes an office complex which covers an area of 22,000 square meters, a global test centre covering an area of 100,000 square meter,. a prototype centre, seven laboratories, and a large outdoor experimental field. It seats 1,200 engineers.
Development began in Liuzhou in 2013 and the accumulated investment in the project since then has reached $43.4 million.
The new R&D center will initially focus on major research, development and testing for LiuGong's lines of wheel loaders, excavators and graders etc. One of the first projects will be the completion of research and development, as well as testing the latest models of H Series wheel loaders.
Alongside this, its comprehensive range of laboratories will develop sophisticated measures to test and optimise all aspects of machine performance, such as structural design, materials science, electronic and hydraulic efficiency, cooling, vibration and noise.
The new Global R&D Centre has several specialized training laboratories including virtual reality studios and industrial design studios, which will also be the focal point for technical training within LiuGong.