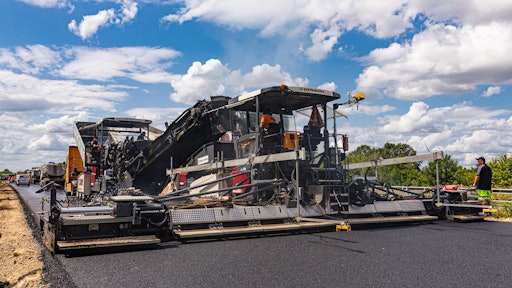 Dynapac will feature its broad line-up of paving and compaction machinery during CONEXPO-CON/AGG 2020. 
Highlights of Dynapac's 6,000 sq/ft booth at the show include:
Fourteen brand new machines will be unveiled at Dynapac's booth #C31113 in Central Hall.
On top of a wide range of equipment upgrades, Dynapac will introduce of a full range of compact paving and compaction equipment
Seismic Technology is now ready to shake up soil compaction industry
Unveiling of brand new state of the art SD Paver with "THE" high compaction screed
Ground breaking MF2500 Feeder now includes IMIX remixing technology 
"We are confident that the attendees will witness what Dynapac can do to increase their productivity, improve operator safety and comfort, while lowering their overall owning and operating costs in the compaction, paving equipment and related technology arena," emphasized Vijay Palanisamy, Senior Product Marketing Manager. "Our line-up will feature everything from our compact line to heavy highway road-building equipment along with cutting edge technology with the latest innovations."  Dynapac's booth (C31113) will be located in the Central Hall of the Las Vegas Convention Center. 
Fourteen new products will be on display within Dynapac's wide range of compaction and paving product portfolio.
Seismic - Shaking up Soil Compaction
Dynapac's signature CA3500D High Climb model will be equipped with the latest Seismic technology for heavy soil and aggregate compaction. "The exclusive technology in Dynapac's Seismic rollers enables the machine to detect the soil's natural frequency and automatically adjust the compaction parameters allowing the drum and soil act as one system," said Palanisamy. "Benefits of this technology include faster and better compaction with less energy. Seismic technology, combined with an ECO Mode, delivers fuel savings of up to 25 percent. Seismic eliminates the guess work for the operator and does the job for them." In addition to Seismic technology, Dynapac will showcase its unique Active Bouncing Control (ABC) technology that protects the material and machine from over-compaction. The Compaction Meter, now standard on our Seismic rollers, displays the progress of compaction on the job site. North American customers will enjoy the benefits of this technology immediately as it will be standardized on all soil rollers starting from CA1500 – CA6500 (8 Ton to 23 Ton) in both smooth drum and pad drum versions. The CA3500D Seismic soil roller will also highlight the newly developed back-up camera further enhancing operator comfort. 
New Line of Compact Compaction and Paving Equipment
Dynapac will display, for the first time at CONEXPO, a new line of compact compaction and paving equipment. This includes a full line of rammers, forward plates,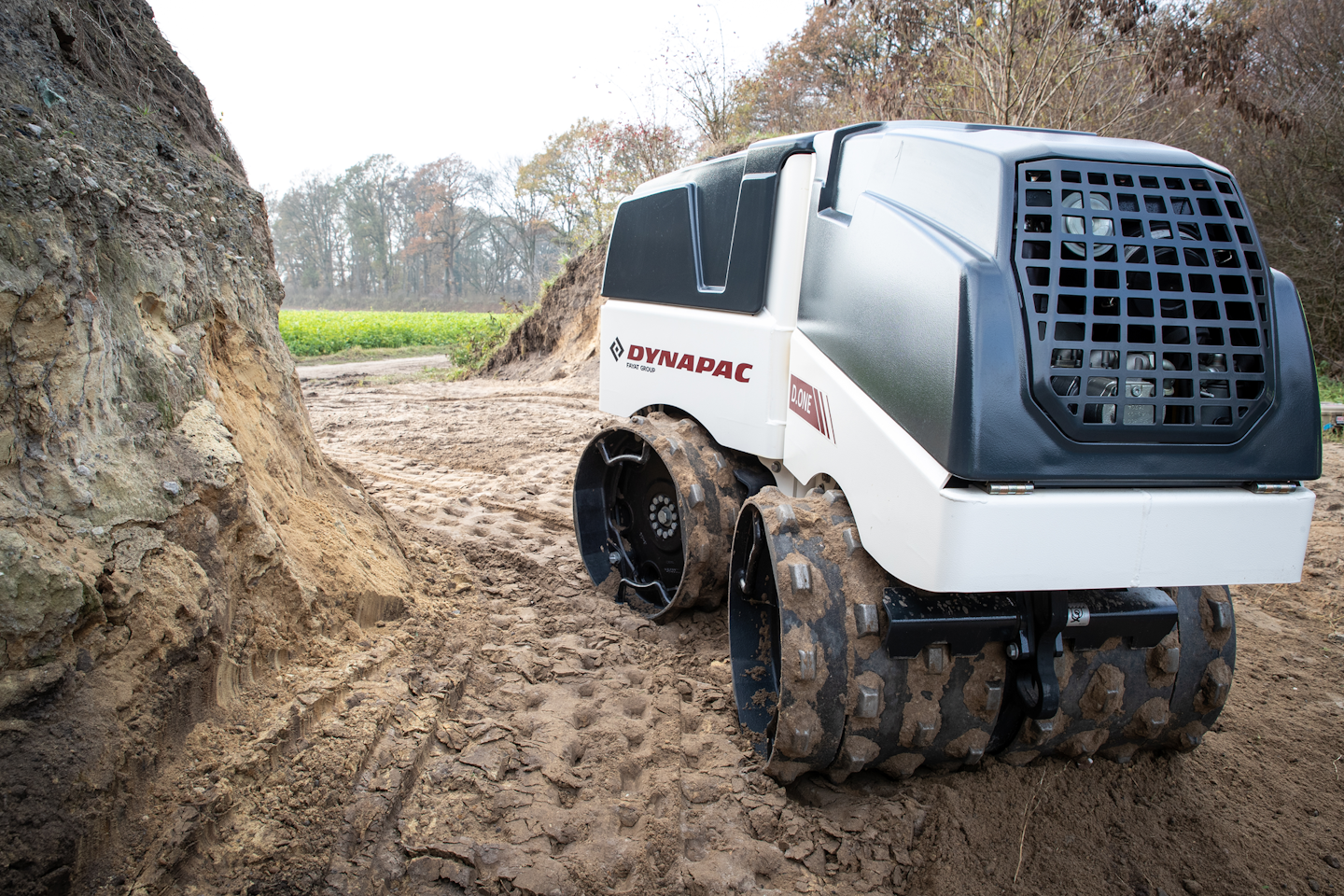 The D.ONE trench roller features radio remote control technology that allows for uninterrupted and long-range connectivity in the toughest weather and jobsite conditions.reversible plates, a trench Roller, mix spreader and mini paver. 
The D.ONE trench roller features radio remote control technology that allows for uninterrupted and long-range connectivity in the toughest weather and jobsite conditions. In order to ensure good compaction results, the D.ONE comes with a directed vibration technology that offers a choice of high or low amplitude vibration. EcoMode, Automatic Vibration Control and a maintenance-free articulated joint are some of the features that keep the operating costs to a minimum. Drum extensions are standard on the D.ONE while smooth drums are available as an option, allowing our partners to maximize their utilization of the machine. This proven Built-Tough Trench Roller will definitely catch the attention of the customers. 
S100 Spreader to Debut
A revolutionary walk behind self-propelled mix spreader that fits in the back of a pick-up truck is Dynapac's S100.   If you ever longed for hassle-free man in relatively small and tight spaces, you must check out the S100.  Front and reverse drive functionality avoids the need to physically push the heavy load thus delivering first class operator comfort. Whether it is small parking lots, cycle paths or patchwork, the swivel castor wheels make it so easy to maneuver from point to point. Designed for working widths from 10 (250mm) to 40 inches (1000 mm), and a thickness of up to 4-inches (100 mm) the S100 can be used to pave asphalt mix as well as spreading chips. 
New F80W Ride-On Mini Wheeled Paver to be Debuted as Well
This wheeled paver has a standard paving width of 31 to 51 inches and is ideal for patchwork, trench paving, bicycle paths and golf cart paths. Simplicity in design of controls makes it very easy for the operator to learn and operate. Hydraulically extending propane gas heated screed allows the paving width to adjust from 31 (0.80 m) to 51 (1.30 m) inches and with bolt extensions reaching a maximum paving width of 65 inches. 
New and Upgraded Asphalt Compaction Equipment
Adding to the Oscillation line up, the new CO5200 VI double-drum asphalt roller with oscillation provides 100 percent ground contact and limits the risk of damage from heavy vibration. The CO5200 VI has a 77-inch (1950 mm) oscillation drum made of Hardox 450 steel that is highly wear-resistant and carries a seven-year, 7500-hour drum shell warranty. "We like to say that 'Oscillation is good, Dynapac made it best,'" said Palanisamy. "It's good for bridge decks, foundations and around concrete structures, as well as on thin asphalt layers. With Dynapac Oscillation rollers the drum's drive belt is easy to access enabling work to be done in the field in less than two hours as opposed to transporting the machine to a shop for multiple days of maintenance." 
The CC1400 VI 4.2 Metric Ton (9,250 lbs) double-drum asphalt roller is the newest in the compaction product line. With a 54-inch (1400 mm) drum, it is the largest in the small asphalt tandem-roller line-up. Like the other Dynapac rollers, it has optimized eccentrics that saves energy and fuel on start-up, the high-vibration frequency and large diameter drum prevents asphalt from shovelling in front of the drum avoiding cracks.  The CC1400 provides excellent drum-edge visibility and maneuverability.  The optional canopy and temperature sensors on this roller further enhances operator comfort and compaction quality. 
Standout Pneumatic Tire Roller
One highlight of the compaction line will be the 82- inch (2,080 mm) CP1200W pneumatic roller. It is built on the same platform as the smaller CP1200, which is 68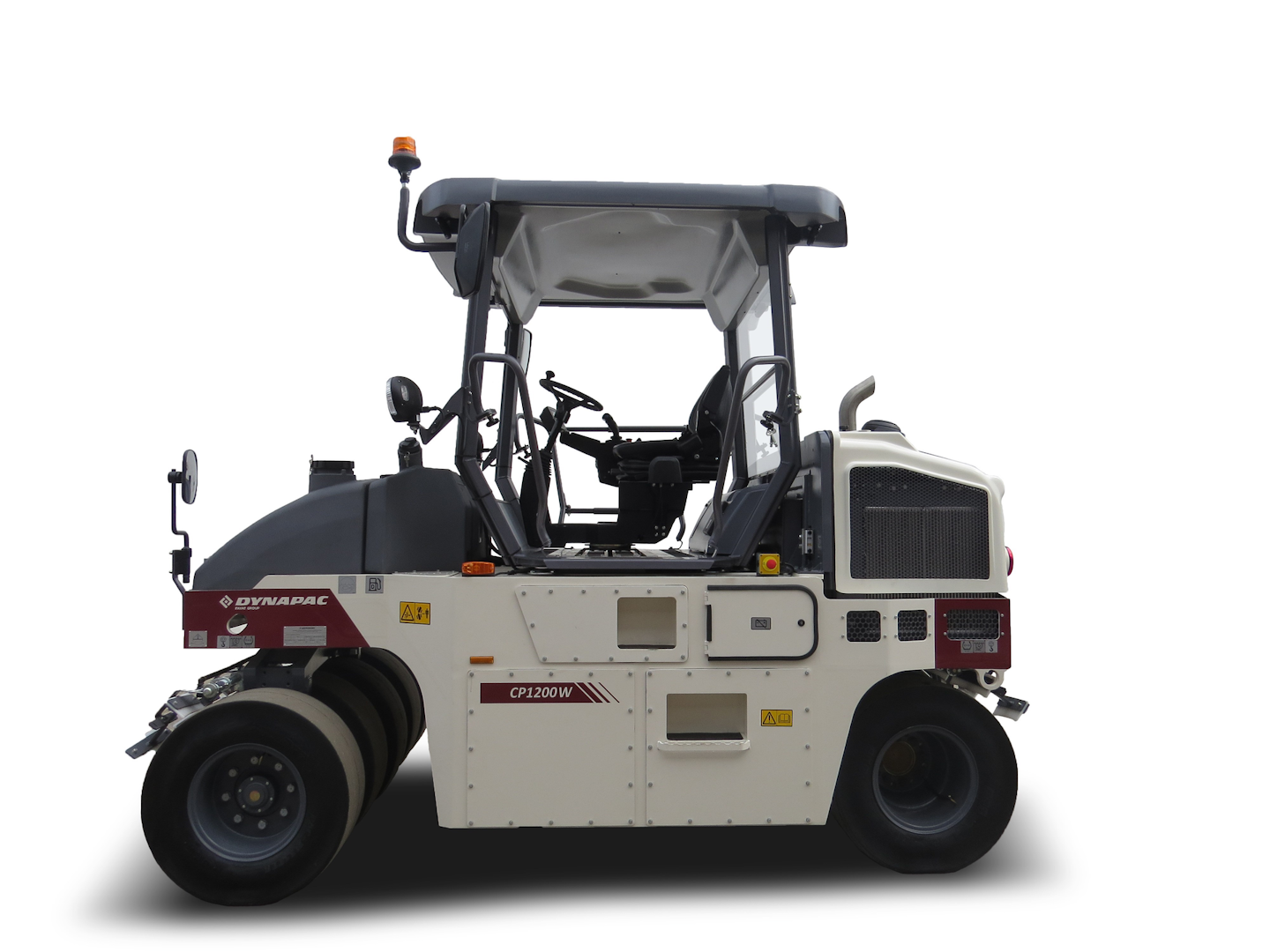 One highlight of the new compaction line will be the 82- in. CP1200W pneumatic roller.inches (1,725 mm); the tire widths are wider for better coverage.  Palanisamy added, "It's a great sealing machine in paving trains and with the wider tires the finish of asphalt pavements just got better, as well as for chip sealing and cold in-place recycling." 
Dyn@Lyzer Intelligent compaction system  
Dynapac will display the upgraded Dyn@Lyzer intelligent compaction system for both soil and asphalt rollers. The newest upgrades include multi-machine reading capability and transfer of the compaction and location data via cloud. The state of the art GNSS based Dyn@Lyzer system features unique wireless gateway connections between the roller and the large display, making it extremely versatile. When moving the system from one roller to another, it is very easy and automatically adapts the compaction data to the new roller saving a significant amount of time and money for the contractor. 
New and Upgraded Paving Equipment Utilizes Latest Technology 
F1250C - New Compact path paver
The F1250C paver replaces the F1200C and features the next level of control systems for compact pavers offering enhanced operator and machine control. The overall upgrades include a higher power engine (from 67 to 74 HP) and newly developed auger and track systems.  The new operator dashboard includes integrated electric screed heat control.  Additionally, the F1250C will be featured with the latest wireless remote control technology further enhancing the operating experience.
Another key feature of the F1250 paver is the new Front Extension VF240VE Screed, developed primarily focusing on North American paving customers. The VF240VE with hydraulic extensions has a basic paving width of 3.88 to 7.33 feet. The extensions are mounted in front of the main screed to quickly react to a change to in paving width conditions. 
Second generation of Commercial Class Pavers for paving professionals (FC1300C-II, FC1400C-II and FC1700C)
The second generation of Dynapac commercial class pavers will be featured in the Dynapac Con- Expo line-up.  The FC1700C is the largest in this product group to undergo a complete tractor redesign based on customer feedback.  Latest upgrades include wider 14-inch (355 mm) track system for improved traction; a 120 HP T4final engine for pushing larger trucks; 9.5-ton capacity hopper increasing paving distance by 1/3 before truck exchange; and a newly developed operator dashboard with integrated screed heat controls improving the operator comfort for ease of operation. 
The FC1700C is offered with the renowned heavy-duty VF0816C screed weighing 4,500 lbs (2,040 kg) boasting best-in-class pre-compaction and pavement quality.  Unique screed mounted 4-auger system provides uniform material feed in front of the screed and eliminates the shovelling of the asphalt towards the side shields when paving full width of 15.5-feet (4.7 m). This auger technology enables paving 30-feet (9.1 m) in two passes versus three passes on a traditional tractor-mounted single auger system saving time and reducing operating costs. 
The FC1400C-II is now offered with the newly developed electric heated VF0814C screed. The multi-zone screed heat system ensures fail-safe uniform heating of the screed. The tractor boasts a 74 HP T4 final engine along with the engine coupled 12 kW generator to accommodate the electric heating screed. 
Redefining Paving quality with Large SD Paver Range and High Compaction "THE" Screed
Dynapac, for the very first time, will showcase the large SD2500CS Paver at Con Expo. This state of the art globally renowned paver will attract contractors focused on achieving the best pavement quality by meeting toughest ride specification including airport runways, racetracks and new highways. The SD Paver range will also be highly suitable for RCC paving applications.
The brainpower Paver manager 2.0 operating system along with newly developed tractor and screed operator dashboards will highlight the Dynapac's cutting-edge operating systems enhancing operator confidence for paving. The integrated display in the screed remotes will include levelling system control and numerous paving related calculators and functions. 
The SD2500CS paver will include the latest operator-assist technology systems such as Truck Assist, Light Assist, Width Assist, and Screed Assist systems. The newly designed electric roof assist and electric rock deflector further shows Dynapac's commitment to provide the best operator comfort.
The SD2500CS paver will be paired with a newly developed V5100THE tamper, high compaction electric screed and will be displayed with extensions attached to pave 27-feet (8.1 m). Dynapac's latest "THE" high compaction screed technology, which allows for a flexibility of adjusting pressure and vibration parameters for optimal results will further assist contractors to achieve higher pre-compaction levels while paving thicker pavements and smoother finish on top layers. The unique pressure bar system allows up to 1,000-psi (70 bar) pressure to be applied uniformly across the whole width of pavement. Another highlight will be the Dynapac 4-tube screed extension system boasting the best stability of the screed while paving wide widths achieving best pavement quality. 
MF2500 Feeder with IMIX Technology – Challenging the Status Quo of the Traditional Material Transfer Vehicle (MTV)
Since the launch of Dynapac's MF2500CS feeder in North America in 2019, the feeder is disrupting the MTV market. Within the paving community the MF2500CS feeder is known for its high productivity of up to 4000 Tons/hour; versatility (using in multiple materials); lowest total cost of operation (including 60-70% less wear parts; and up to 70% reduction in fuel consumption over traditional MTV's) saving up to 60,000 USD/year in rebuild costs.  The feeder offers best in class operator comfort and visibility thru fully automated operator assist functions and hydraulically lifting platform.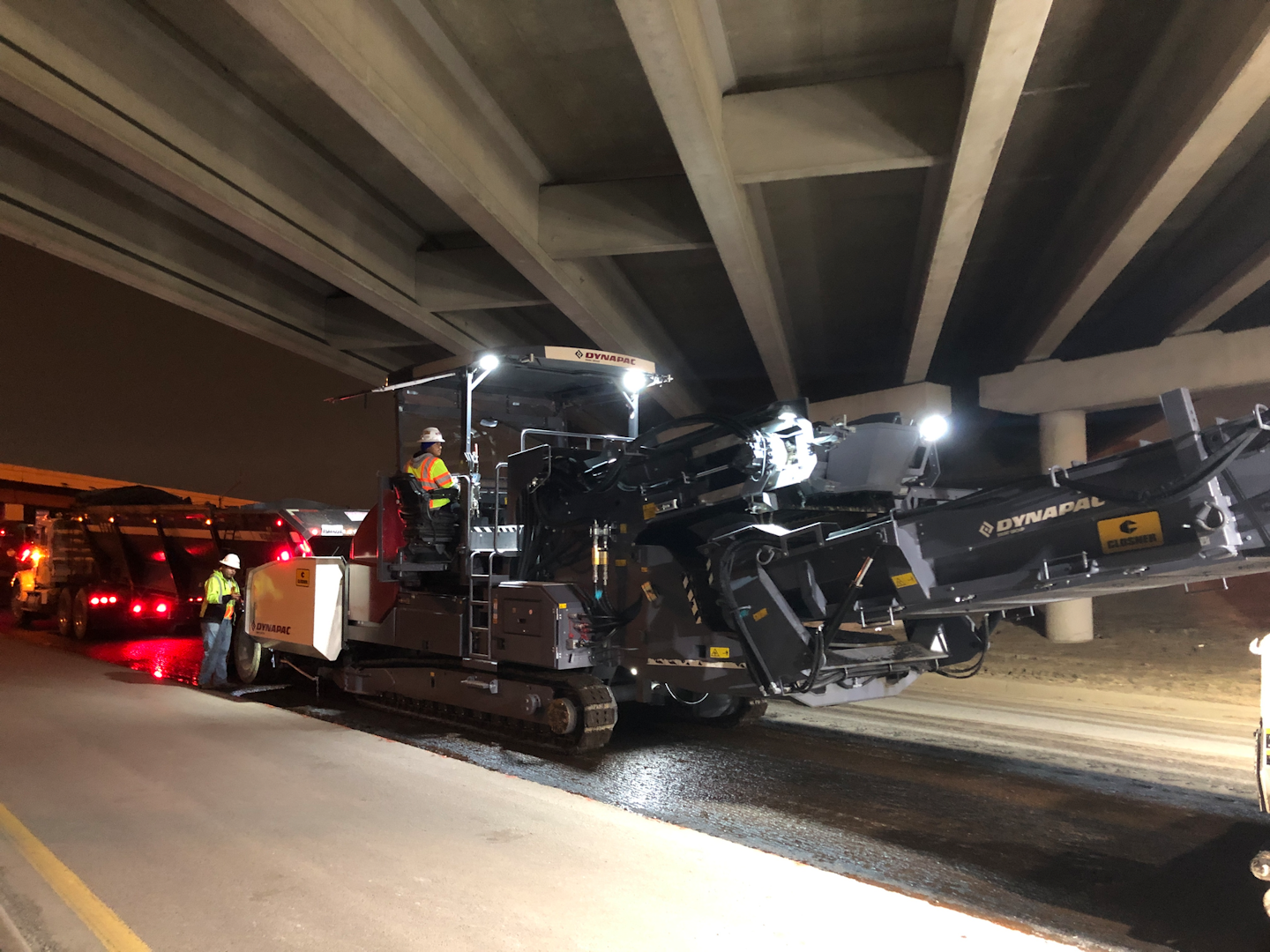 At CONEXPO Dynapac will launch the much-awaited IMIX system for asphalt paving, eliminating temperature and material segregation. The MF2500CS will also feature the newly developed 3-ft. SW6500 swing app conveyor for long side reach while paving over barriers and in-line or echelon paving applications.

The unique quick attach (less than 20 minutes with two people) Swing App further reduces investment cost for the contractors using one swing app for multiple machines in their fleet. 
At CONEXPO Dynapac will launch the much-awaited IMIX system for asphalt paving, eliminating temperature and material segregation. The  MF2500CS will also feature the newly developed 3-ft. SW6500 swing app conveyor for long side reach while paving over barriers and in-line or echelon paving applications. 
To complement the equipment, Dynapac will also showcase its aftermarket parts and service capabilities, as well as enhancements made to the Dyn@Link telematics systems in a Technology Tower display. 
"Whatever is needed in paving and compaction, Dynapac has the machine to cover it," said Palanisamy. "We are looking forward to showing CONEXPO attendees how we can be a total solutions provider and help them achieve better results on the road ahead." 
Companies in this article