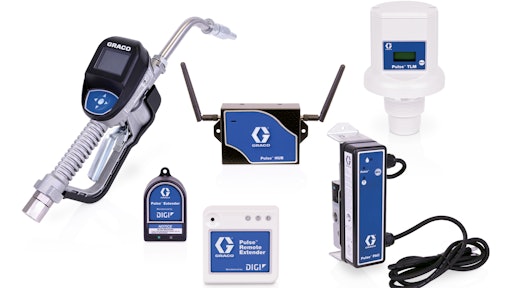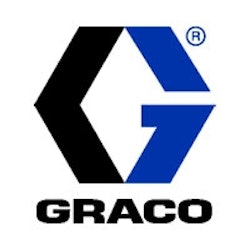 Graco Inc. will be showcasing its lubrication equipment for the heavy-duty construction and aggregate market at the upcoming CONEXPO-CON/AGG 2020 show March 10-14, 2020 in Las Vegas, Nevada. Visit booth #F100519 in Festival Hall to learn how Graco's lubrication equipment solutions extend the lifecycle of off-road mobile and other machinery while expediting maintenance tasks, so construction experts can better adhere to schedules.
Graco's full line of Dyna-Star series pumps will be on display this year, including the new Compact Dyna-Star designed specifically for heavy-duty earthmoving machines in extreme work environments. Graco is also showcasing the full line of G series pumps and GLC series controllers including the new GLC X automatic lubrication controller and Auto Lube app. With Graco auto lubrication solutions, operators can do their job safely by refilling the lubrication reservoir and checking their systems from the ground, reducing the risk of falling, over-filling or spilling.
In addition, Graco will be showcasing the latest in fluid management and fluid control technology. Pulse Pro and Pulse FC systems dispense only precise volumes to create efficiencies for your entire operation. Use either to monitor how much fluid is used; choose the amount of fluid each technician can dispense; maintain accurate inventory; and streamline processes to improve productivity.
Discover new cutting-edge technology in booth #F100519, as well as our standard product offering including electronic dispense meters, legendary Fire-Ball series pumps, and hose and cord reels. Together with the latest innovations, these products comprise a complete dispense system that ensures precise, reliable lubrication and dispensing solutions that reduce costs in construction service and maintenance applications.
Download the Graco Auto Lube app from Google Play or the App Store (iOS) for free – and perform all controller functions from the convenience of a smartphone or tablet. For more information about Graco's auto lubrication equipment and fluid management solutions, visit www.graco.com or speak with Graco experts in booth # F100519 at CONEXPO-CON/AGG. To schedule a demonstration at the show, please visit www.graco.com/CONEXPO.