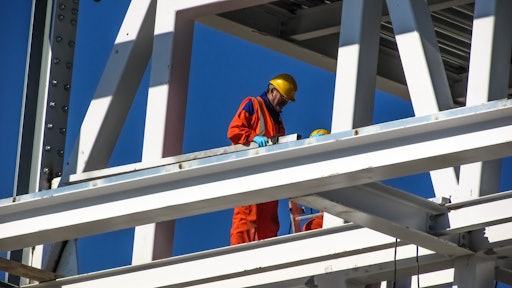 Dimitris Vetsikas from Pixabay
CHECK BACK DAILY FOR THE LATEST NEWS
Continuing Resolution Would Extend FAST Act Funding
The U.S. House of Representatives approved by a 359-to-57 vote on September 22 a Continuing Resolution (CR) for FY2021 that would fund federal government programs beginning October 1 through December 11. Key for state departments of transportation is an extension of current surface transportation funding legislation – the Fixing America's Surface Transportation or FAST Act.
Analysis by the American Association of State Highway and Transportation Officials indicates the FAST Act extension within the CR provides:
An obligation limitation through December 11, estimated to be $9.1 billion for the Federal-aid Highway Program
An extension of FAST Act funding and provisions from FY 2020 to all of FY 2021, including contract authority formula apportionments to states
A $10.4 billion general fund transfer to the HTF's Highway Account and a $3.2 billion transfer to the Mass Transit Account
A $14 billion general fund transfer to the Airport and Airway Trust Fund, making up for the aviation excise tax holiday included in the $2 trillion CARES Act passed in March
Govexec.com reports the Senate is expected to send the measure to President Trump for his signature in the coming days. Even with the deal to fund agencies through December, another stopgap measure could become necessary if the lame duck Congress decides to punt on line-by-line funding measures in the weeks immediately following the election. The House has passed 10 of the 12 annual spending bills, but those were agreed to largely without Republican support. The Senate has yet to approve any of its bills, even at the committee level. 
September 21: One Year Extension Likely as FAST Act Deadline Looms
Federal highway, bridge and public transportation programs will likely be extended for one year, according to a tentative deal reached Sept. 18 between Congressional leaders and expected to be finalized in the coming days. The FAST Act surface transportation authorization and annual spending laws all expire at the end of this month. 
House and Senate leaders agreed that very few policy changes would be attached to both the FAST Act extension and the must-pass continuing resolution (CR) that will likely fund other government programs through Dec. 11.
The House is expected to consider the legislation the week of Sept. 21, to avert a government shutdown. The Senate would have to vote before Sept. 30, but it's unclear when.
---------------------------------------
The $1.5 trillion infrastructure bill, coined the Moving Forward Act, has been set forth by House Democrats and have hopes for it to be passed before Congress' July 4th recess. While it is saturated in additional areas of investment outside of traditional infrastructure, at its foundation is nearly $500 billion in highway and transportation funds over 10 years. 
Over the course of the next several weeks, ForConstructionPros will be monitoring the bill as it makes its way through the Legislative branch and onto the President's desk. 
Here's a quick reference Fact Sheet for what's inside the bill.
---------------------------------------
July 2: AEM President Dennis Slater Makes Statement Upon Bill's Signing
Source: OEM Off-Highway
"We commend the U.S. House of Representatives for staying focused on the looming expiration of the 2015 FAST Act, and the opportunity before us to leverage infrastructure investment as a means to support economic recovery efforts during the coronavirus pandemic."
---------------------------------------
July 1: AED President Issues Statement After House Passes INVEST in America Act
In order to urge the Senate to act, AED is providing a drafted letter package to send to your local Senators.
---------------------------------------
July 1: House Vote Today on Infrastructure Bill
The House will cut short its work week and vote Wednesday, July 1st, on a $1.5 trillion infrastructure bill that Democrats hail as transformative and Republicans dismiss as doomed.
---------------------------------------
June 29: House to Vote on Infrastructure Bill This Week
Source: Politico
The House is lining up a vote this week on its $1.5 trillion infrastructure bill aiming to get the legislation across the finish line by packaging amendments together as much as possible as the pandemic forces changes to Congress' voting patterns.
---------------------------------------
June 26: Summary Breaks Down 'Moving America Forward' Act
A 96-page summary of the Moving Forward Act breaks down the specific sector-by-sector infrastructure investments inside the INVEST in America Act surface transportation reauthorization bill.
---------------------------------------
June 25: [CONSTRUCTION NEWS TRACKER] Will Infrastructure Funding Plans Pass Before FAST Act Expires?
Democrats in the House of Representatives have introduced a $1.5 trillion infrastructure bill, and the White House has ordered the U.S. Transportation Department to devise a $1 trillion infrastructure funding bill.
---------------------------------------
June 23: House Democrats push aid for wind and solar in new infrastructure bill
Source: Washington Post
House Speaker Nancy Pelosi (D-Calif.) and other Democratic leaders included extensions of tax breaks long sought by the renewable energy sector as part of a $1.5 trillion infrastructure package.
---------------------------------------
June 23: Over 700 cash-strapped cities halt plans to repair roads, water systems or make other key investments
Source: Washington Post
The coronavirus has forced many municipalities to halt or cancel major purchases and infrastructure improvements, according to new data from the National League of Cities.
---------------------------------------    
June 22: AGC CEO Issues Statement on New House Infrastructure Package
The Moving Forward Act's proposed $1.5 trillion in new investments will improve range of public infrastructure, creating needed demand for construction while making the economy more efficient.
---------------------------------------
June 22: House Democrats Release Text of H.R. 2, a Transformational Infrastructure Bill to Create Jobs and Rebuild America
The Moving Forward Act invests in our nation's roads, bridges, transit, rail, schools, housing, broadband, drinking and wastewater systems, postal service, clean energy sector, health care infrastructure and much more.
---------------------------------------
June 19: Democrats 'Moving America Forward' Bill Focuses on Resilient Infrastructure
The $1.5 trillion bill includes a $500 billion transportation package but Republicans fear it focuses too much on climate change.
---------------------------------------
June 18: Why Infrastructure Investment Can't Wait
At the end of September, the last surface-transportation reauthorization expires. New federal infrastructure legislation can be a path to addressing problems that will only get costlier and more cumbersome without a major bipartisan push now.
---------------------------------------
June 16: Trump Finally Plans His $1T Infrastructure Boost
The existing U.S. infrastructure funding law is up for renewal by Sept. 30, and the administration sees that as a possible vehicle to push through a broader package.
---------------------------------------
June 12: Dems Say Infrastructure Package Coming Soon
The Invest in America Act will reach the House floor for debate this month, says Majority Leader Steny Hoyer, D-MD. The bill would allocate almost $500 billion for roads, bridges, public transportation and railroads and would improve access to broadband.
---------------------------------------
May 28: How Infrastructure Investment Could Facilitate Post-crisis Economic Recovery
A look at current infrastructure needs, what an infrastructure investment package might entail and how it could be the key to U.S. economic recovery in the wake of the COVID-19 pandemic.
---------------------------------------
May 11: House and White House Fighting for Highway Spending as Coronavirus Stimulus
Senate Republicans openly defiant about supporting citizens and states after bathing corporations in record stimulus spending