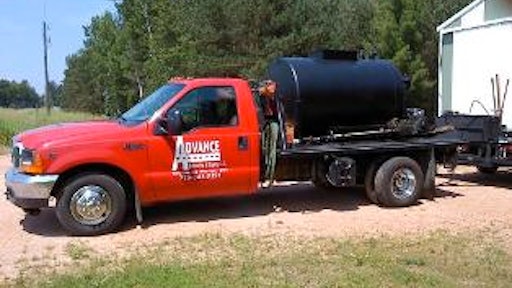 Name: Rich Oluszczyk
Company: Advance Sealcoating & Striping LLC
Position: Owner
Years in Business:13
What services do you offer?
Advance Sealcoating & Striping offers complete sealcoating of asphalt maintenance. We use state of the art technology to protect and beautify all driveway and parking lots. We use power brooms, industrial blowers and wire wheel edgers to clean the asphalt. We then fill the cracks with hot rubberized tar for complete protection of cracks. We can router cracks if requested. I buy my sealer in bulk from Sealmaster. I am also distributor to many sealcoaters in Wisconsin. We mix our sealer daily with 100% coal tar, 3 pounds of sand per gallon and 3% additives with 30% water. We will do layouts for parking lots and then stripe the lots.
What type of customers do you serve?
Advance Sealcoating has served all customers from residential to commercial. We have a great repeat business, and I enjoy visiting with clients that over the years have become a friend.
What is your company's service area?
We cover Stevens Point, Plover, Amherst, Amherst Junction, Bevent, Hatley, Rosholt, Wittenberg, Galloway, Eland, Elderon, Birnamwood, Antigo, Wausau, Marathon City, Edgar, Stratford, Spencer, Marshfield, Hewitt, Auburndale, Blenker, Milladore, Junction City, and all the area in between!
Your website says Advance Sealcoating and Striping was established in 1998. How did you begin working in this industry?
My father-in-law built the business in 1998. His brother owned a sealcoating business and explained how the business worked. They went to a sealcoating convention, and he really enjoyed the sealcoating industry. I helped my father-in-law for a couple years, for the first years, and being that it was seasonal I had to find employment elsewhere. I would help when I could and told him when he was ready to retire I would like to take it over. He retired in 2009, and since then I have taken the business completely over and enjoy every day since, unless it is raining.
How did you come up with the company name Advance Sealcoating and Striping?
We were throwing out names and Advance seem to fit well with what we were trying to sell, a company that is advanced in technology. I actually came up with the Logo on my computer. I think ADVANCE is an easy name to remember.
How long have you had a Facebook page? What motivated you to create one?
I created a Facebook page last year, and my motivation was to get Advance Sealcoating's name out to my friends and family which in turn created jobs for me. It is free advertising and when it comes to advertising........FREE is good. It is an easy way to keep up with clients, friends and businesses that use Facebook.
What do you love most about your job?
I enjoy the fact that we are a small family business with one goal in mind -- which is to give our customers the best sealcoating job possible. I put a full 100% guarantee on our workmanship and product. I enjoy being outdoors meeting old and new clients. It is very gratifying to see a driveway or parking lot full of cracks and weeds become a beautiful black driveway or a clean parking lot with two coats of freshly applied sealer and stripes. Being a small business, we have a connection with our customers rather than them being just another job.
Curious about how Advance Sealcoating & Striping is using its Facebook page to connect with clients? Click here to view it.