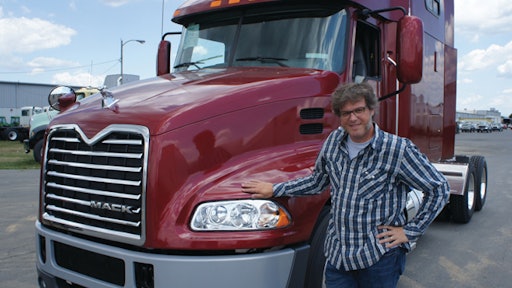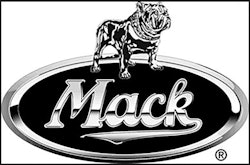 GREENSBORO, NC – Looking for manufacturing companies to feature in its Made in America series, Travel Channel thought of Mack Trucks, Inc.  The network was familiar with the truck maker's iconic American brand, and soon found out that Built Like a Mack Truck still very much means built in the USA.  Mack continues to build every truck it sells in North America, and every truck it exports, in the Lehigh Valley region of Pennsylvania.  So it wasn't long before Made in America host George Motz and a Travel Channel video crew were on their way to Bulldog country.   
In the episode of Made in America scheduled to air on Travel Channel next Tuesday, November 15th at 8 pm ET/PT, Motz experiences up close what it takes to build the world's toughest trucks.  Working side by side with production technicians at the Mack Macungie Assembly Operations, he tries his hand at a variety of operations, with varying degrees of success.  A highlight is when he takes a shot at installing the famous Bulldog hood ornament that rides on the hood of every Mack truck. 
"George actually did quite well," said John Walsh, Mack director of public relations.  "But we made sure our folks were close by – nothing left to chance when it comes to delivering a quality product.  In the end, everyone had a lot of fun, and we're looking forward to seeing the show next week."
The Made in America host and crew also visited the Mack Customer Center in Allentown, Pennsylvania, just a few miles from the Macungie plant.  Shots of Motz driving a MACK® Pinnacle model sleeper are among the scenes in the November 15th episode (8 pm ET/PT on Travel Channel).       
Dedicated to quality, reliability, and total customer satisfaction, Mack Trucks, Inc. has provided its customers with innovative transportation solutions for more than a century.  Today, Mack is one of North America's largest producers of heavy-duty trucks and MACK® trucks are sold and serviced through an extensive distribution network in more than 45 countries.  Mack trucks and diesel engines sold in North America are assembled in the United States. 
Mack Trucks, Inc. is part of the Volvo Group, one of the world's leading manufacturers of trucks, buses and construction equipment, drive systems for marine and industrial applications, aerospace components and services, and is one of the world's leading producers of heavy-diesel engines (9-16 liter).  The Group also provides complete solutions for financing and service. 
Companies in this article