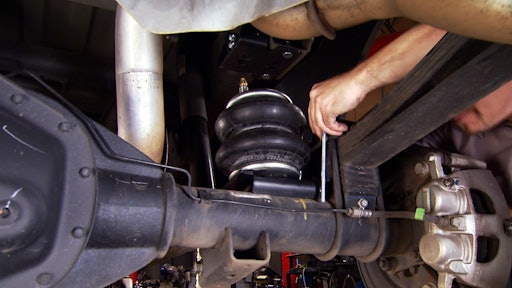 Firestone Industrial Products Company, LLC announces its Ride-Rite brand will be featured on an episode of the PowerBlock TV show "Trucks!" July 21 and 22, 2012 on Spike TV at 10:00 a.m. EST/PST. The episode can also be viewed online.
During the episode, "Trucks!" hosts Kevin Tetz and Ryan Shand will install Firestone's Ride-Rite air helper springs kit on a 2012 Dodge Ram 2500 4WD truck. The Ride-Rite kit, which mounts between the truck's frame and suspension, uses air pressure to maximize the truck's safe load carrying capacity, as well as improve vehicle stability and braking effectiveness. The show will demonstrate Firestone's no-drill Ride-Rite kits, which use the truck's factory holes for an easy installation.
"Trucks!" will also highlight Firestone's Heavy Duty Remote Air Command air accessory system, which is designed to provide an instant air source to Firestone's complete line of suspension solutions. The Heavy Duty Remote Air Command system allows users to increase or decrease air pressure from up to 50 feet away, letting drivers visually inspect a vehicle's ride height and air pressure while the vehicle is loaded. It comes with a heavy duty air compressor, an improved rechargeable remote, three memory settings, an electronic interface and sealed components.