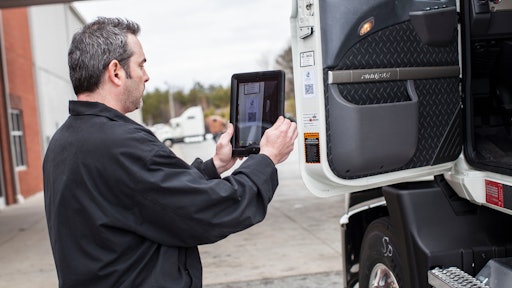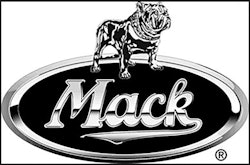 Mack Trucks has announced that all new MACK trucks will feature a unique QR code to speed service response times and improve customer uptime. QR codes, or quick response codes, are matrix bar codes that supply rapid retrieval of information when a tablet or other mobile device scans the code. 
Starting in April, Mack will install QR codes on the vehicle's doorframe during the manufacturing process. When the vehicle arrives at the dealership, service advisors scan the vehicle's unique code, allowing the service advisor to rapidly access the truck's VIN, owner information and dealer service history and automatically launches Mack's service management system powered by MVASIST. This electronic process eliminates the potential for errors that can occur with paper-based service write-ups. 
"Uptime is a critical component for the success of our customers," said John Walsh, Mack vice president of marketing. "Mack developed the QR code process to reduce the amount of time customers need to wait while basic vehicle data is obtained and entered into the system. They need to be spending their valuable time on the job, not at the dealership."
The service advisor also has the ability to launch required inspections through the mobile device used for the initial scan. This step saves technicians time in completing and accurately documenting inspections and enables the truck to get back on the road faster.
Mack is currently working with dealers to retrofit QR codes on existing MACK trucks.