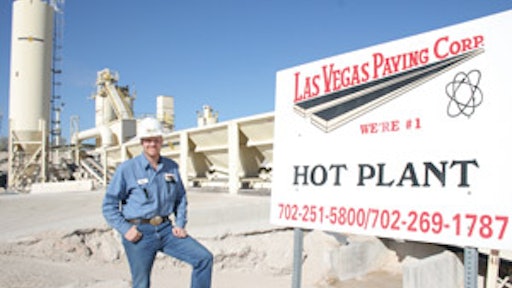 They say that everything is bigger in Texas. However, with its towering structures along The Strip and explosion of new development over the past decade, the same can be said about Las Vegas. Nothing seems to slow this convention and vacation destination.
Even in the shadows of rising oil prices that have increased the cost of asphalt, local producer, Las Vegas Paving Corp., sees no signs of waning demand. "Five years ago, asphalt was $18 per ton and today it is double that, but the demand for (asphalt) roads remains strong," says Dan High, hot plant superintendent for Las Vegas Paving Corp.
Las Vegas Paving is truly a multifaceted company that tackles a wide variety of projects in the construction industry. In addition to its asphalt operations, the company has a large underground utility division, a concrete division capable of completing projects ranging from sidewalks to bridges, an environmental treatment facility, a trucking division, traffic control division, and a vast material and crushing division. In 2006, the company's aggregate production alone was nearly 11 million tons.
"Put all these divisions together, which gives us the ability to accomplish just about any task, and this is what Las Vegas Paving is known for," explains Terry Mendenhall, vice president of Las Vegas Paving. The company prides itself on delivering a finished project in a timely manner to the complete satisfaction of the customer. And this philosophy and business model has worked well, as the company ranks as the 62nd top fleet owner in the nation and has grown to an average annual contract volume of $400 million.
The company's asphalt division includes five asphalt plants stationed around the Las Vegas area. The vertically integrated Las Vegas Paving is by far the leading asphalt contractor and producer in the area. Since its inception nearly 50 years ago, the company has placed nearly 30 million tons of asphalt, or about 40,000 lane-miles.
About half of the company's annual asphalt production comes from its Terex® drum mix plant located on the southwest side of town. The 15-year-old plant is built for high production asphalt mixing for its paving operations. It features two 300-ton silos, a 500 TPH drag slat , four AC storage tanks, an energy center with 4,000-gallon storage, five virgin aggregate and two RAP bins, three tunnel aggregate feeders, lime and dust silos, a baghouse, and a marinating system.
The marinating system is required by the state for asphalt mixes used on state projects. "We marinate the sands and fines with 2 percent hydrated lime, which serves as an anti-stripping agent," explains High.
This year, the heart of Las Vegas Paving's high-production plant is getting a transplant. The company is installing a larger version of the drum mixer that has served the producer well over the past two years.
Path to a 600 TPH drum
Shortly after ConExpo-Con/Agg 2005, Las Vegas Paving took delivery of a new asphalt drum mixer design, the Terex® E3. It was the first drum with a new concept built on years of experience. "This drum draws from more than a century of asphalt production technology, as it combines components from both the CMI Triple Drum and Cedarapids Magnum drum designs," comments David Emerson, director of asphalt product management.
Las Vegas Paving's 500 TPH E3 counterflow drum mixer had three different heating transfer zones - convective, radiant and conductive.
The convective zone heats and dries virgin aggregate to desired settings. Moving closer toward the flame, RAP and a percentage of virgin aggregate receive further heating between the main and outer drum shell in the radiant zone. Once passing the flame, RAP shares heat with virgin aggregate in the conductive zone while being injected with liquid AC. Since mixing occurs behind the burner flame, any hydrocarbons resulting from this process are incinerated in the flame, so the plant runs cleaner.
Since being delivered in 2005, the drum mixer has been a big producer for the company. "We ran the plant 12 months out of the year and mixed more than 1 million tons of asphalt in less than two years with the drum," says High. The company experienced no major problems with the drum and liked several of its features. "The plant ran very clean and our service guys liked the accessibility to the drum's flights for replacing," he adds.
With area demand for asphalt increasing, the producer upgraded to a new E3 drum to replace the previous million-ton mixer. This new drum is also a first - the first E3 capable of producing up to 600 TPH of mix. It will be similar in design to the drum it is replacing, but it will be slightly longer and have a larger diameter in order to produce more mix.
RAP entrepreneurs
In addition to being the founder and current CEO/owner of Las Vegas Paving, Robert L. Mendenhall, Ph. D., is known as a significant contributor to the asphalt industry through his many inventions. A total of 47 different U.S. patents have been issued in his name, and Mendenhall has earned the reputation for contributing to the industry's acceptance of asphalt recycling in the early 1970s.
One of his early patents for the production of recycled asphalt serves as the foundation of the Terex early-entry RAP system. This unique method of handling RAP allows the plants to run higher percentages of RAP. "This feature is extremely important, as it allows us to run RAP percentages up and stay within the bounds of our air pollution limits," Terry Mendenhall explains.
RAP and liquid AC blending occurs behind the burner flame with this counterflow drum, so any hydrocarbons resulting from the process are drawn into the exhaust gas stream and incinerated by the flame. "This design allows customers with our mixers to run up to 50 percent RAP while meeting environmental regulations," says Emerson.
This feature is critical for Las Vegas Paving, since the producer runs up to 30 percent RAP in its mix designs to save money. "On a 3,000-ton day, running 30 percent RAP can save us about 36 tons of oil," says High. This saves the producer thousands of dollars every day it uses RAP in its mixes. "Based on current liquid asphalt prices, which are approximately $325 per liquid ton, I sometimes wonder if we should be putting a security guard on top of our RAP piles," jokes Mendenhall.
With its new E3 drum mixer, Las Vegas Paving's high-production plant will be capable of producing even more mix to satisfy the area's ever-increasing demand for asphalt. With its unique early entry RAP system, originally designed by the producer, Las Vegas Paving will be capable of saving money on every ton of mix produced.
Companies in this article