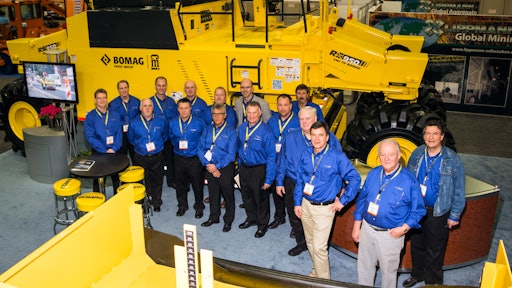 In what the company called a "key strategic initiative to expand its position and support customers in the road building industry on the American continent," Bomag (Fayat Group) entered into an agreement this past February to acquire certain Terex product lines in North America and Roadbuilding operations of Latin America. 
"The addition of these product lines enhances the position of Fayat Group as the only full liner in road building equipment. Moreover, it accelerates our footprint in emerging countries," says Jean-Claude Fayat, Fayat Group executive managing director.
"We are pleased to announce the agreement and are proud to welcome the Cedarapids and CMI products (asphalt pavers, reclaimer/stabilizer and material transfer vehicles/devices) and reputable brand images into the Bomag Americas offerings," says Rob Mueckler, vice-president of sales & marketing.
This deal does not affect the Terex Bid-Well roller paver or Terex front-discharge mixer truck lines. Terex will continue to produce and market these lines.
At the recent World of Asphalt show in San Antonio, TX, Bomag displayed several machines recently acquired by Terex. The machines featured were painted yellow and featured logos that retained the CMI and Cedarapids names in combination with the Bomag logo.
"Branding will follow very closely to the paint and decal concepts that we debuted at the recent WOA Show," says John Hood, director of sales, heavy equipment "Our Bomag CR model pavers and MS model transfer devices will display the Cedarapids badge. Our Bomag RS model recycler/stabilizer products will display the CMI badge. We will promote to the markets that the acceptance and performance of the legacy of these product brands are still recognized market leaders and that they will further benefit in the future from the strength of Fayat and the innovation of Bomag."
As far as distribution networks, machines will be marketed and sold through distributors contracted for those designated products, says Dave Dennison, manager marketing services/product manager. 
"We constantly evaluate marketing channels and regional nuances so that we may take advantage of changes in the construction industry landscape," he says. "Distributions channels are one of the most challenging factors facing manufacturers today. Much due diligence is being performed in an effort to select the proper partners for the future."
Those who currently own Terex-branded machines that are now a part of the Bomag family, will continue to be supported through the through the existing contracted dealers, as well as newly contracted Bomag Road Building dealers, says Dennison.
"Bomag has augmented its sales, marketing, and application team with the addition of industry experts Bill Rieken and Tom Kiselica," explains Dennison. "Further personnel will be added in the near future to ensure that Bomag customers receive top-notch support for their machines and solutions to their applications."
Companies in this article