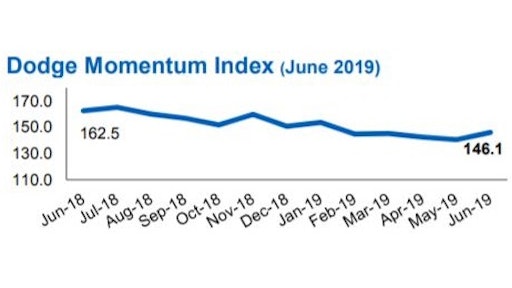 Data: Dodge Data and Analytics; Graph: CRH
The July 12 edition of materials giant CRH's Construction Data and Trends Report offers interesting context on the track record of nonresidential project planning over the past 12 months.
The Dodge Momentum Index (DMI), from Dodge Data & Analytics, is a monthly measure of the initial report for nonresidential building projects in planning.
The DMI increased 4.0% in June 2019, reaching 146.1 after a revised score of 140.5 in May
Planning in the commercial building sector, where total construction spending has plunged 8.1% since the first of the year, increased by 2.4% to 148.0 in the month.
The Momentum Index is 10.1% below its June 2018 level, suggesting a continued slowdown in construction activity underway through 2019.
In fact the total value of construction put in place so far this year, measured monthly by the U.S. Department of Commerce, shows construction spending has slipped 0.3%. But an 8.2% drop in residential spending dramatically exaggerates the depressing influence of commercial construction's year-to-date decline.
With the biggest spending drop in the biggest spending category – residential construction – numbers on the nonresidential side remain fairly encouraging.
A whopping 18.1% increase in the value of highway and street construction since the first of the year is supported by more big improvements in hefty categories such as educational, office, manufacturing and transportation construction spending. Only spending in communication and religious construction, among the smaller nonresidential segments, has declined year-to-date.