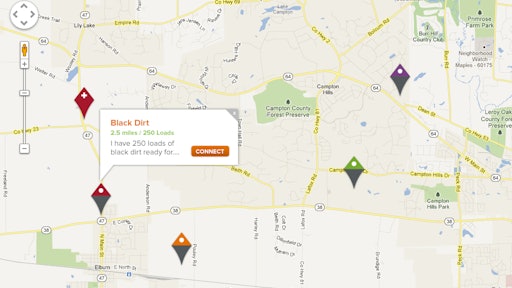 Have you ever had a project where you've either been too short or had too much material for the job, whether it be sand, gravel, dirt, clay, etc.? Well there's a free online tool for construction contractors designed to solve these issues. Material Tracker provides contractors with a place they can list extra material they are looking to unload or find extra material they need for a job. 
The website claims that Material Tracker can help contractors save fuel, reduce emissions and increase profitability.
The website is designed to work in three fairly simple steps:
Create a free account
Track materials
Make connections
The main goal of Material Tracker is to connect construction contractors. It's almost similar to the concept of online dating. After creating an account, contractors can list a material type, whether they are long or short and designed distance parameters. When a match is made with your parameters you are automatically notified by email giving you the opportunity to make the connection to relocate or receive the material. Once notified by email, the material supplier can choose if they want to respond and proceed with the connection or if they are not interested.
Video: How Material Tracker Connects Construction Contractors to Solve Extra Jobsite Material Issues
If you're looking for extra material for a current or future job, the Material Tracker website also lets you search listings to see potential matches.
What do you think? Would a site like Material Tracker be beneficial for your construction business? Have you used Material Tracker before?
Share your thoughts with us in the comments section below.
And if you like what you read in this blog, remember to vote for us in the Jackson Design and Remodeling Blogger Awards for best construction business blog. Voting is open through April 10, 2015.
Go here to vote for ForConstructionPros
When your browser opens the page, scroll down to the Construction Business category (first box on the left in the second row). Click the radio button next to "ForConstructionPros" and then click "Vote." There's no registration required. You can vote once per category once per Internet-capable device you own. 
We appreciate your readership and your votes! Thanks for helping make ForConstructionPros.com's Construction Toolbox blog a go-to source in the industry.
See more from the Construction Toolbox blog from ForConstructionPros