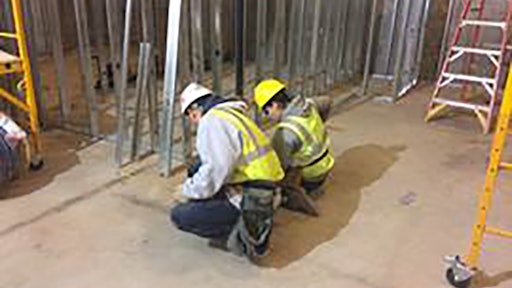 The construction industry has been hearing for years now about the lack of skilled laborers and the need to start refilling the construction laborer pipeline.
Workforce development is beyond a hot topic at this point, it's on fire.
It's not that programs trying to fill this need don't exist. There are countless programs and initiatives aimed at construction workforce development. However, the public still seems to have a negative perception about working in the construction industry.
YouthBuild is one such program that is helping train young adults in the construction trades.  Unlike programs solely focused on teaching construction skills, the YouthBuild program is unique in that the focus of the program is split between teaching job skills and helping these young adults improve their lives.
Dorothy Stoneman started the first YouthBuild program in Harlem, N.Y., in 1978. The goal of the program was to rebuild the lives of what many refer to as "at risk" young people – or more progressively called "opportunity youth" - by helping them rebuild their community assets.
Thirty-seven years later there are over 260 individual YouthBuild programs in the United States. These programs are sponsored and managed by local nonprofits, government agencies and community colleges.
YouthBuild reaches young adults ages 16 through 24 and offers them the opportunity to learn construction skills through building affordable housing. Residential construction is the core of the program, but some YouthBuild programs have also branched out and placed graduates into commercial and highway construction as well, based on the shifting needs of the area and the industry.
Each year an average of 10,000 students enroll full-time in one of the many YouthBuild programs — and many programs have waiting lists.
While not all graduated students go into careers in the construction industry, the number of possible future employees should have construction contractors thinking.
Students enrolled in YouthBuild programs receive both hands-on training as well as education to create both workplace and industry-wide competency. As the construction industry changes, many of the programs adapt as well teaching students about new areas of the industry such as green principles. Graduates leave the program not only with the physical skills but the knowledge of what it takes to work in the construction industry.
Many students also leave the program with a more positive outlook and a desire to give back.
Not only does this create workers with the abilities to do construction work, but it also creates more focused workers who want to do a good job and help better their communities and their industries.
Find a YouthBuild program near you

Once a student graduates from a YouthBuild program they aren't just cut loose. The YouthBuild program continues to follow-up with graduates for up to one year or even longer. According to Daryl Wright, vice president for employer partnerships with YouthBuild USA, this gives the students an additional edge and often gives employers a sense of comfort.
Construction contractors looking to hire and fill their workforce needs should consider YouthBuild program graduates. Find out if there are any local YouthBuild programs in your area, and then find out if any of those graduating students are looking for jobs in the industry.
YouthBuild programs target many of the under-represented groups in the construction industry which provides an "untapped reservoir of talent" Wright says. These programs provide students with the tools they need to be successful in the construction industry along with a quality education similar to what a pre-apprenticeship program provides, Wright adds.
Contractors can also partner with local YouthBuild programs by providing job shadow and internship opportunities, mentoring YouthBuild students or making presentation to YouthBuild classrooms.
You might not be looking to hire now, but you may be in the future. Getting involved with a local YouthBuild program and getting your name and construction business in front of the students may give you a boost when the students graduate and look for jobs in the industry.