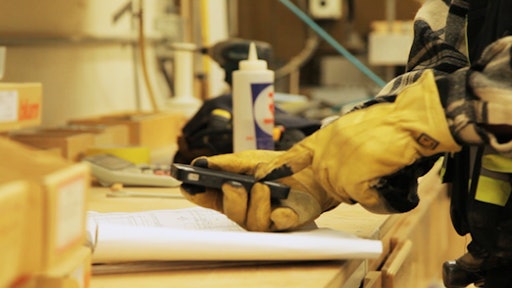 Technology is cropping up all over the construction industry, but did you ever think the newest technology would be on your work gloves? Two companies have announced recent products bringing technology literally to your fingertips.
Globus, a UK-based company, has recently introduced a fully biodegradable, synthetic work glove. In addition to being comfortable with a durable design, this work glove takes it one step further to become more environmental friendly. Older gloves could take decades to biodegrade and break down in landfills, but Globus claims its new Showa 4552 can biodegrade in as little as 24 months.
The Showa 4552 glove features a liner and sponge nitrate that both incorporate the manufacturer's ECO Best Technology (EBT). EBT is what Globus says helps the glove biodegrade much faster. The EBT organic additive is designed to make the glove attractive to microbial activity in a landfill. Micro-organisms consume the EBT formulation then excrete enzymes that depolymerize the nitrile and polyester liner.
Globus claims the glove, which features a 15-gauge lightweight liner and sponge nitrile coating to facilitate grip, is still able to retain its grip in oily conditions due to the coating's oil-absorbency properties. The Showa 4552 glove is designed to protect a worker's hands from oils, dirt, grease and abrasion.
Another company, Nanotips, has introduced a product designed to make work gloves more technology friendly while on the jobsite. The product, also called Nanotips, is a liquid solution that makes any glove touchscreen compatible making mobile device use while wearing the gloves much easier.
According to the company's website, Nanotips mimics the touch of human skin enabling the user to interact with all touchscreen devices. 
The product is simple to use — just apply the liquid solution to your gloves and let dry. Nanotips claims it is ready for use in under five minutes. The liquid solution can be applied to leather, rubber, fabrics and fleece.
Nanotips is a semi-permanent product meaning it would need to be reapplied once the functionality starts to wear off. That can vary from several weeks to months depending on the usage of the gloves.
One bottle of Nanotips, which retails for $19.99, can be used to treat up to 20 fingers, and the product is washable.
While touchscreen compatible gloves do exist, Nanotips provide contractors with another option if they are not in the market to buy new gloves.
Would you use either of these technologies on your construction jobsites?
Do you foresee benefits of using either of these products?
Share your thoughts with us in the comments section below.