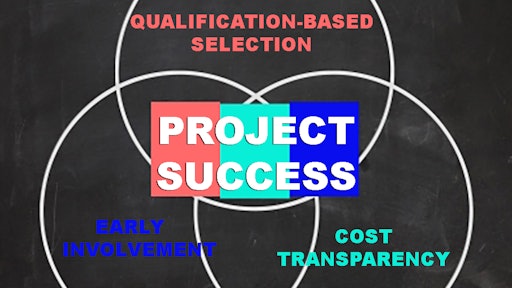 If a successful construction project is one that is finished on time and on budget, what are the keys to generating that success? First, making sure all stake holders (owner, design team, construction team, etc.) are on the same page with the goal of working together is important.
A study by Charles Pankow Foundation and the Construction Industry Institute took a look at 204 capital projects to find out how to maximize team integration and achieve project success. The study, "Maximizing Success in Integrated Projects: An Owner's Guide," found three critical factors of project success:
Early involvement
Qualification-based selection
Cost transparency
While the study may be geared to promoting integrated project delivery, a method that might not be suitable for every project, owner or contractor, there are tips that can be valuable to all stakeholders on construction projects.
Early involvement. Involving all parties, including the construction team, as early as possible is key. Placing a focus on early involvement and integration during pre-construction planning — even pre-design planning — could be the difference between a project that runs smoothly and one plagued by project and communication problems. 
Qualification-based selection. As most quality construction companies know, choosing a contractor solely based on low bid is not usually the best route to success. This study reinforces what construction contractors already know and what many of you preach to your customers: choose your project team based on qualifications rather than just price. 
Cost transparency. Finally, don't be a closed book when it comes to costs. Transparency between all parties can often create a higher degree of trust between the parties. Even specialty trades can benefit from cost transparency on a project. In fact, shared risk and reward can be another driving factor for project success.
What are your thoughts? Do you see these three factors as critical to project success?
Would you add any critical factors to the list? Would you remove any of these three from the list?
What are your opinions on integrated project delivery?
Share your thoughts and opinions in the comment section below.