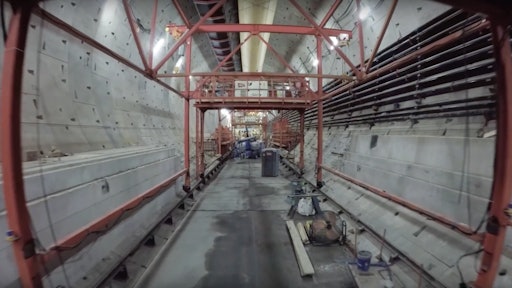 Just like a recent Construction Toolbox blog highlighted some of the most innovative bridges across the world, tunnel construction in the United States has also been evolving.
According to a recent tunnel construction infographic from the New Jersey Institute of Technology there are over 400 tunnels in the United States. While records of tunnel construction methods date all the way back to 1556, construction of tunnels has been evolving as our world demands new, innovative and sustainable structures.
Long ago tunnels were dug with a hammer and chisel. That was replaced by steam and compressed air powered drills and then dynamite for blasting. In 1884, British engineer James Greathead perfected the tunneling shield method which is still used today in soft ground tunneling. In 1900, the method of using circulating coolant through pipes embedded at intervals throughout the area was used to stabilize soft soil, and it is a method still used today.
Using shotcrete to line tunnels came about in the 1920s. In 1954, James Robbins invented the tunnel boring machine. Between 1957 and 1965, Austrian tunneling specialists developed the New Austrian Tunneling Method. And in 1970, construction of tunnels began to incorporate injecting grout into soft soil or fractured rock surround the tunnel route — another method still used today.
While some of these historical tunnel construction methods are still accepted and widely used now, the most current tunnel construction methods include:
Immersed tube tunnels — these tunnels consist of very large pre-cast concrete or concrete filled steel tunnel elements fabricated of site and installed under water in trenches
Bored tunneling — this method involves using tunnel boring machines to dig a tube-like passage through the earth 
Soft ground tunneling — excavation of soft ground tunnel openings and construction of the supports changes the stress conditions for the tunnel and surround area. Construction must include a method to maintain equilibrium and stability when dealing with soft ground
New Austrian Tunneling Method — integrates surround rock or soil formations of a tunnel or underground opening into an overall ring-like support structure. This method is known as the Sequential Excavation Method in the U.S.
Cut and cover — tunnel structure is built inside an excavation and covered over with backfill material when construction is complete
Box jacking — this method is used for constructing shallow rectangular road tunnels beneath critical facilities and infrastructure so as not to disrupt the services provided by those surface facilities and infrastructure
One of the more recent tunnel projects — The Big Dig in Boston — provides more insight into modern-day construction of tunnels.
The Big Dig started in 1991 and was finally completed at the end of 2007 at a cost of $24 billion.
Special excavating equipment called "clamshell excavators" carved narrow trenches — about 3 feet wide and up to 120 feet deep — down to bedrock. Then, side-by-side concrete and steel panels formed the walls of the tunnel while workers removed more than three miles of dirt beneath the city of Boston.
Another modern-day tunnel project — Seattle's Alaskan Way Viaduct — is using the bored tunnel method with it's gigantic boring machine known as Bertha. This tunnel project has encountered many delays and issues but after nearly two years of Bertha being out of commission for unexpected repairs it seems this project is finally back to work.
How do you see tunnel construction evolving in the future? How are sustainable practices and construction safety affecting and influencing tunnel construction?
Share your thoughts on tunnel construction in the comments section below.