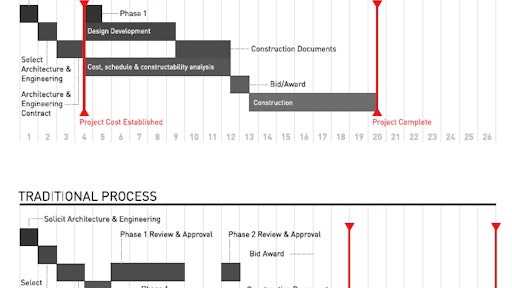 Are you or have you been involved with a design-build project? How much do you know about design-build? The Korte Company, a national design-build company, created an educational infographic piece compiling data from McGraw-Hill Construction and the Journal of Construction Engineering and Management to help illustrate the idea that design-build is the most efficient project delivery method.
If you are not familiar with the design-build concept, it is a construction delivery method that provides owners with a single point of contact for both the design and construction phases of a project. This collaborative approach keeps pre-construction, design and construction stages of a project in close communication and working together from the very beginning through the end of a project.
According to Korte Company, "Design-Build promotes team collaboration and innovative solutions, leading to on-budget, on-time project delivery and efficient facilities. Time and again, it's proven to be the strongest method for the vast majority of commercial projects."
10 Design-Build Best Practices
According to the data the Korte Company compiled, using the design-build process a project's cost can be established well before that of the traditional process. Design-build also helps projects be completed sooner than the tradition process typically takes.
The Korte Company's design-build inforgraphic highlights 10 benefits of design-build.
Minimizes owner risk
Single-source responsibility
Cost savings — according to data from the Journal of Construction Engineering and Management, design-build is 6.1% lower cost than DBB and 4.5% lower cost than CMR
Speed— Journal of Construction Engineering and Management data indicates that 20% of design-build projects finished ahead of schedule compared to 13% of CMR and 7% of DBB projects; data also suggest design-build is 33.5% faster than Dbb and 23.5% faster than CMR
The highest quality project
Creative solutions for complex projects — early involvement of the construction team can often lead to creative solutions and problem solving before a problem manifests itself on the jobsite
Manage design alternatives for best-value solutions
Flexible, competitive bidding
Collaboration and enhanced constructability
Accepted by federal, state and local agencies
Design-build might not be the end-all be-all method for construction, but it certainly seems to be proving itself to be the best approach for many projects.
What are your thoughts on design-build?
Have you been involved in a design-build project? What are your impressions of the process?
Are you avoiding the design-build method? Why?
Share your thoughts in the comments section below.