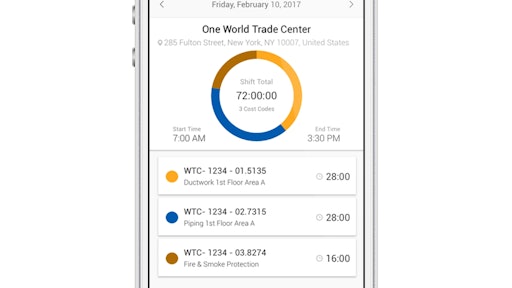 Mobile app: Rhumbix
Developer: Rhumbix
Cost: Pricing based on plan
Available on: Apple devices
With the Rhumbix mobile app, foremen can create and approve time cards in just minutes. With the app, foremen can capture quantities installed, change orders, signatures, pictures/notes and create daily reports from the jobsite.
Rhumbix replaces manual paper-based reports with digitized field reports so the focus remains on production rather than administration.
Rhumbix is customizable to match site schedules with start and end times, meals and breaks. "The development of the Rhumbix app came from veterans of the construction industry so there's a design natively built into the typical construction flow," says Julian Pisani Rhumbix Director of Growth. " Flows such as normal start and end times as well as breaks and meals. But more important is the ease-of-use functionality for the busy lives of construction foremen."
Foremen have the ability to review, edit, approve and export digital timecards. Once a time card is complete, the information becomes immediately available on a Webapp allowing payroll administrators to easily review, process and integrate data right into payroll, Pisani says.
Rhumbix is not only a field tool but also ties in the analysis of labor productivity to set it apart from other market products. With Rhumbix, contractors have daily visibility into project performance helping to answer the question, "Did I make money or did I lose money today?"
According to Pisani, Rhumbix combines a project budget with actual production data from the foremen each day (man hours and quantities installed at the cost code level). "Our analytics suite automates the reporting of production factors that drive project performance (good or bad). We bring to light the areas that should be optimized, in real-time, so schedules and budgets have reduced risk. Today, there's no other tool or process, at this low of a cost, to bring this level of visibility," Pisani says.
Rhumbix is available in three plan options. The Core plan is $6 per month per worker and billed annually. The Core Plan features timekeeping and all field reporting including quantity reporting, change orders, daily reports, union compliance/signatures and pictures/notes.
The Pro plan – Rhumbix's most popular plan – is $22 per month per worker billed annually. The Pro plan includes features of the Core plan plus labor productivity suite, daily project profitability, labor distribution reporting and customized .csv exports and integrations.
Finally, the Master plan is the top tier and is custom priced. It includes Pro functionality plus custom third party software integrations, custom enterprise security features, custom analytics dashboards, productivity consulting services and more.
App features:
Record time spent by workers at cost code level
Assign workers to company-specific codes in real-time
Adjust hours worked per worker
Secure a digital timecard signature from workers daily
Record delay conditions against specific cost codes in real-time
Standardize delay reporting with easy select delay reporting
Capture photos and notes of delay events
Record notes using voice-to-text feature
Record daily quantities installed against cost codes and tasks
Report installed quantities daily against key commodities
Create rich data on weekly impacts and restrictions
Increase visibility into work completed on a daily basis
Identify common delay conditions
Determine daily cost and labor performance
Measure progress at the cost-code or sub-task level
Monitor and measure field impacts and restrictions
Determine daily performance factors
Performance dashboards highlight trends and problem areas so contractors can act on them and get back on track