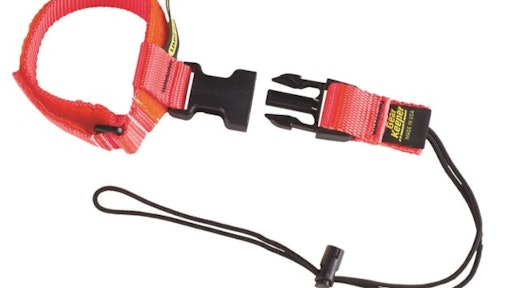 Continuing the 2017 12 Days of Construction Christmas gift list...
One the third day of Construction Christmas — Hammerhead Gear Keeper Deluxe Wrist Lanyard Systems
These retractable wrist lanyard systems from Hammerhead feature Quick Connect tool attachment connecting devices for secure, fast and easy connection and disconnection of tools up to 5 pounds. This is a great option for contractors working at heights or when a short drop distance is required.
The lanyard is made from comfortable nylon webbing with Velcro wrist attachment straps. It is available in high visibility safety orange. You can fit additional male connectors to tools to change out and use multiple tools with just one lanyard.
There are two versions of the wrist lanyard. The TL1-2007 includes a side release disconnect barrel lock with 10-inch extended length and nylon lanyard connector. The TL1-2008 includes a 10-inch extended length and stainless steel snap lanyard connector.
Looking for other construction-related gifts? Check out the rest of 2017's 12 Days of Construction Christmas gifts: