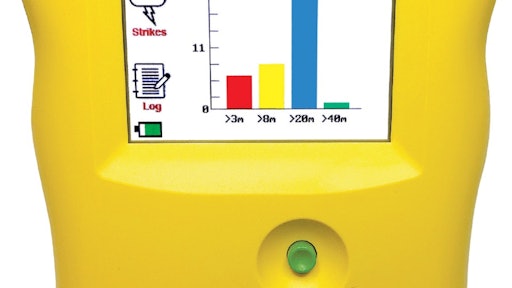 Continuing the 2017 12 Days of Construction Christmas gift list...
One the sixth day of Construction Christmas — INO Weather Pro Handheld Weather Device
Most construction work is done out in the elements. So it's nice to have tools that can help us keep track of weather affecting job schedules and even help us know when the weather might be cause for a pause in work to take shelter.
The INO Weather Pro logs seven essential weather measurements to track weather history. Downloadable real-time logs capture measurements according to user frequency preferences. The weather monitor records lightning strikes, temperature, relative humidity, altitude, heat index, dew point and atmospheric pressure.
The device captures real-time local lightning detection and direction as well as distance of cloud-to-ground lightning strikes as far as 40 miles away. Plus, the device has corresponding audio and color-coded visual warning levels for cloud-to-ground lighnting.
The water resistant device has a 2.4-inch touchscreen color display with LCD backlight. It measures 4.5 inches long, 3.7 inches wide, 1.2 inches high and weighs 6.6 ounces.
Looking for other construction-related gifts? Check out the rest of 2017's 12 Days of Construction Christmas gifts:
Day 4 – Kelvin 36-in1 Super Tool