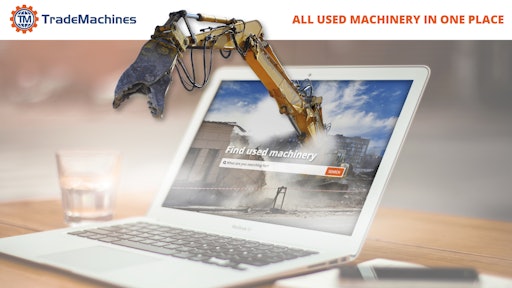 trademachines.com
One thing I love about writing for the Web is the opportunity to get new information for previously posted blogs. Over the last few months I've posted two blogs highlighting some online used equipment resources. After each blog post, I've had additional companies reach out to introduce their used equipment website. And then I get to pass that new resource information onto my readers.
Finding Used Construction Equipment Made Easy with Online Resources
More Online Used Construction Equipment Resources
So here's another one for you contractors out there looking for used construction equipment: TradeMachines. TradeMachines is a search engine for used machinery that brings together buyers and sellers. The site combines industrial auctioneers and used machinery traders providing a comprehensive market overview for contractors using the site. A quick search shows more than 95,000 used construction equipment for sale on the site.
Buyers can filter search results by equipment auction location, auction houses and machinery type. You can also find direct sales from international used machinery traders.
7 Caution Signs When Buying Used Equipment
According to TradeMachines, its used equipment inventory is searchable and sold worldwide, but you can narrow it to the United States market as well.
TradeMachines offers many ways to filter its inventory to make searching easier including filtering by category, price, seller and manufacturer. You can also sort the results by new, cheap, expensive, top," hurry up" and "take your time". Those are some sort by filters I've never seen before!
Another interesting feature of the TradeMachines website is its Auction Calendar, which shows upcoming actions and what types of equipment they will include. You can also filter the auction calendar by country and seller.
Have you tried TradeMachines.com for your used equipment needs? What do you think of the resource?
Do you find the volume of equipment on the site to be overwhelming or ideal for a used equipment search?
Share your thoughts in the comments section.