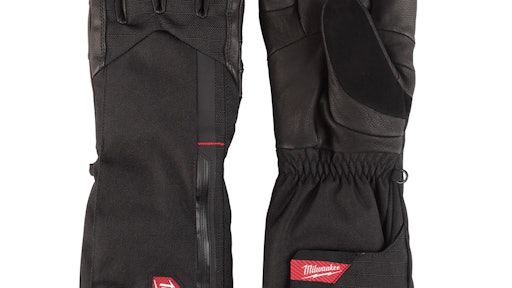 Continuing the 12 Days of Construction Christmas 2018 gift list...
One the eighth day of Construction Christmas — Milwaukee Tool's Heated Gloves
Milwaukee Tool has released the first heated gloves powered by rechargeable REDLITHIUM battery technology. The USB Rechargeable Heated Gloves heat on-demand for up to six hours on low. The gloves were also built with additional features to help improve overall dexterity and mobility.
The gloves have three heat settings (low, medium and high) and fully heat up in just two and a half minutes, according to the manufacturer. They are availble in sizes medium to extra-large.

The gloves are made from GRIDIRON Ripstop Polyester for bettering durability against tearing and abrasions. However, the polyester is lightweight making the gloves lighter for mobility. The gloves are also wind and water resistant.
The palms and fingers of the gloves are 100% leather and an extended cuff helps keep debris, water and snow out of the glove.
The gloves also feature SMARTSWIPE on the index fingers which permits the use of touch screen devices while wearing the gloves.
Looking for other construction-related gifts? Check out the rest of 2018's 12 Days of Construction Christmas gifts:
Day 2 – Ergodyne Bottle Holder
Day 4 – The LEGO Technic Volvo Concept Wheel Loader ZEUX Set
Day 5 – Personalized Tree Ornament
Day 7 – Fiskars Pro Utility Knives