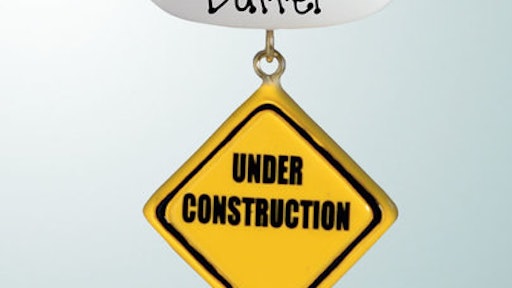 Continuing the 12 Days of Construction Christmas 2018 gift list...
One the fifth day of Construction Christmas — personalized "under construction" ornament
Growing up, my parents gave my brother and me a new Christmas ornament each year. As an adult and a high school coach, I've continued that tradition with my children and with the children I coach. It may seem like a little gesture, but I know the students I coach love getting those ornaments each year.
Start a new holiday tradition with your workers. Consider giving a construction-themed ornament each year. There are so many construction themed ornaments available. Give it an extra special something by personalizing it with each of your workers' names, like this under construction sign ornament, which includes a hard hat, under construction sign and an orange cone. Then search ForConstructionPros.com for past 12 Days of Christmas blog posts over the last few years. I've included ornaments in most of those years. Or, search online and get ideas for next year's ornament.
Looking for other construction-related gifts? Check out the rest of 2018's 12 Days of Construction Christmas gifts:
Day 2 – Ergodyne Bottle Holder
Day 4 – The LEGO Technic Volvo Concept Wheel Loader ZEUX Set