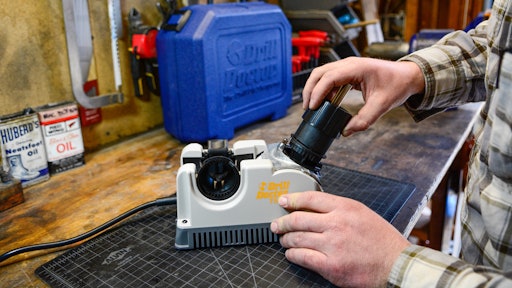 Continuing the 12 Days of Construction Christmas 2018 gift list...
One the third day of Construction Christmas — the Drill Doctor
If your everyday work requires you to use drill bits then you know the frustration and expense of dull drill bits. The Drill Doctor sharpens dull drill bits similar to the way a pencil sharpener works.
For example, the Drill Doctor 750X sharpens standard twist and masonry bits from 3/32 inch to 3/4 inch. The custom point angles can be set between 115 to 140 degrees. The adjustable material take0off extends the bit life by allowing users to modify the amount of material removed during sharpening. The 750X also creates and restores split point drill bits. The 750X can be used to sharpen carbide, cobalt, high-speed steel, black oxide, TiN-Coated, twist and masonry bits.
Another feature, the "Push to Stop" drill point splitting port does not allow users to over split a bit point. The Drill Doctor has a easy to replace diamond sharpening wheel and includes a 6-foot power cord.
Looking for other construction-related gifts? Check out the rest of 2018's 12 Days of Construction Christmas gifts:
Day 2 – Ergodyne Bottle Holder