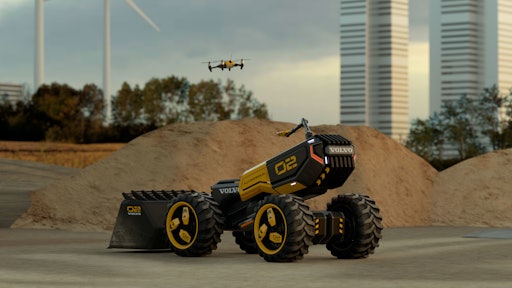 Continuing the 12 Days of Construction Christmas 2018 gift list...
One the fourth day of Construction Christmas — LEGO® Technic Volvo Concept Wheel Loader ZEUX set

Volvo Construction Equipment, LEGO Technic and a team of children worked together to create the LEGO Technic Volvo Concept Wheel Loader ZEUX. The concept originated as a fun, informal team building event to inspirt the Volvo CE and LEGO Technic design teams in 2016. After coming to fruition, the newest LEGO Technic machine has led to a number of potentially revolutionary patents.
Two features of the ZEUX set include a scout drone and an adjustable "camera" boom mounted on the roof of the unit called the Eye. The Eye shows exactly where the vehicle's attention is directed, which means it can make "eye contact" with humans and acknowledge their presence, according to the Volvo press release.
The LEGO Technic toys need to adhere to values that include "Authenticity, Functionality and Challenging building" (AFC promise). This means all LEGO Technic models must look as close to real-life as possible, be fun to play with and inspire buildings to try new building techniques.
Other features of the ZEUX set include:
Working boom and bucket
Moving counterweight by raising and lowering chassis

Articulated four-wheel steering
Building instruction for alternative model (available online)

—

Volvo Concept Hauler PEGAX

Autonomous construction vehicles are likely coming to a construction site near you in the future. Say you were an early adopter with the LEGO Technic set!
Looking for other construction-related gifts? Check out the rest of 2018's 12 Days of Construction Christmas gifts:
Day 2 – Ergodyne Bottle Holder