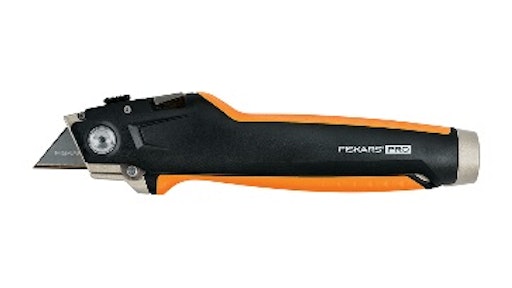 Continuing the 12 Days of Construction Christmas 2018 gift list...
One the seventh day of Construction Christmas — Fiskars Pro Utility Knives
A utility knife is a handy tool for the construction jobsite. Fiskars has created a new line of utility knives designed specifically for professionals. The knives feature a blade with CarbonMax coating to keep them sharper 24 times longer than competitive blades, according to Fiskars.
An improved locking system prevents accidental blade release. Audio and visual locking cues also make accidental blade release less likely. Plus, tabs ensure the blade won't pull out when twisted.
Fiskars has improved ergonomics with its Pro Utility Knife line as well including:
Multiple grips for comfort regardless of position
Softgrip with strategic texturizing for enhanced comfort
Easy-access buttons to enhance ease of use
The Fiskars Pro Utility Knife line includes:
Fixed utility knife
Retractable utility knife
Folding utility knife
Painter's utility knife
Drywaller's utility knife
18mm and 25mm snap-off utility knife
Looking for other construction-related gifts? Check out the rest of 2018's 12 Days of Construction Christmas gifts:
Day 2 – Ergodyne Bottle Holder
Day 4 – The LEGO Technic Volvo Concept Wheel Loader ZEUX Set
Day 5 – Personalized Tree Ornament