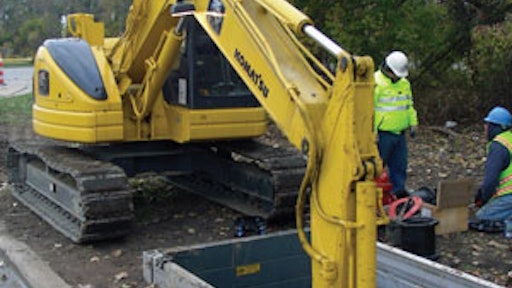 James McRay
Efficiency Production, Inc.
The City of Monroe, Michigan recently awarded an important watermain rehabilitation project to Insituform Technologies USA, Inc. of St. Louis, Missouri. Insituform is rehabbing 2.5 miles of potable watermain in Monroe using a special process that lines the existing pipe.
"We decided to go with the Insituform Blue system for a couple of reasons, the first is that the watermain pipe is still good, we really just needed to clean it out and shore it up," said Patrick Lewis, Monroe's Director of Engineering. "Second, that application (lining watermain pipe) really worked well for this situation. There aren't a lot of leads along the line, and it really provided minimal disruption to the area's traffic, so that alone provided a cost savings."
Insituform is lining the watermain using its Thermopipe system. The Thermopipe liner is a thin reinforced polyethylene liner ideally suited for rehabilitation of distribution water mains and other pressurized piping systems up to 12 inches in diameter. Supplied as a factory-folded "C" shape liner, the Thermopipe liner is winched into the host pipe from a reel and reverted with air and steam. Once inflated and heated, the liner forms a close-fit within the host pipe, creating a jointless, leak-free lining system able to independently carry the full system internal design pressure.
In total, more than 14,000 linear feet of water main will be lined by Insituform over a 2.5 mile area. Along the pipeline, the watermain will be accessed between 120-140 times, wherever there is a hydrant, tee in the line, or valve.
Even though the watermain isn't particularly deep in the ground (between 5 and 8 feet deep), making multiple excavations in a busy area of Monroe creates its own unique challenges. Insituform requires the ability to access the host pipes for cleaning, lining and post-rehabilitation inspection. Multiple small pits will need to be dug and then left open for access--as many as 21 holes at one time. Although pits will be cut directly in the middle of busy roads, resulting in some lane closures and other traffic redirects, the installation of the Thermopipe system will be less disruptive than traditional dig and replace methods.
Each pit will be dug out with a rubber-track mini-excavtor, which is smaller than an excavator typically used in this situation. The trench shoring for the pits will also be installed with smaller equipment. The ideal shoring solution for subcontractor Rachel Excavating of St. Paul, Minnesota is the lightweight, modular Build-A-Box Aluminum Trench Shielding System manufactured by Efficiency Production, Inc. of Mason, Michigan. Rachel Excavating is responsible for all the excavations, shoring and plumbing on the project.
"I like the (aluminum modular) boxes," says Mark Hairston, Insituform's Project Supervisor. "We were using end shores and boards before, but the guys really like using the 4-sided boxes. It's so easy: just cut a hole to fit the box, and set it with a backhoe."
Where the watermain is accessed, the pits will be kept relatively tight. Rachel Contractors are using a series of 5 feet x 10 feet, four-sided aluminum trench shields put together using two feet high aluminum Build-A-Box panels, and eight feet tall full-length corner posts. The panels are secured in the corner posts with a series of pins and keepers.
Efficiency Production's Build-A-Box is one of the most flexible trench shielding systems available and is able to be assembled into two, three, and four-sided configurations, plus three-way tee configurations and other spot-utility shoring. Custom accessorized Barrier Posts integrate seamlessly into the corner posts of each Build-A-Box unit, making it the perfect fall protection system for the shored pits dug in the middle of the road.
"The Build-A-Box is very flexible," says Scott Weaver, Rachel Contracting's Foreman on the project. "There have been places where we've needed to add depth, so we've simply added another panel to the top of the box, and in some places we've needed to leave out a panel near the bottom to get around a cross utility."
After installing and reverting the Thermopipe liner in the host pipe, Insituform renews service connections to the watermain using its iTAP system. The iTAP system is a robotic method of reinstating service connections from inside a lined main. A remote operator uses an innovative technology to locate the service connections from inside a lined main and robotically cuts through the liner at each service opening. A special device is used to tap each corporation valve. As a final step, a sealing nut and gasket are installed in each threaded corporation valve, creating a water-tight seal.
The $2.5 million watermain restoration project began in October 2008, and is expected to be completed in the spring of 2009.
James McRay is the Director of Marketing & Media for Efficiency Production, Inc. He can be reached at 800-552-8800, or e-mail:[email protected]
Companies in this article