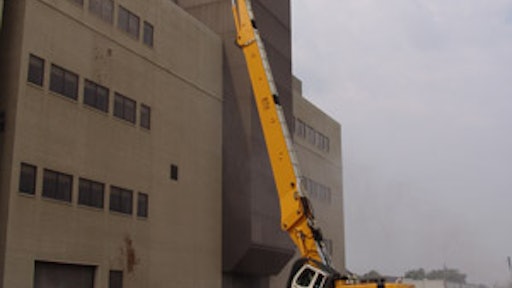 Dietrich Rokahr
Louisville, KY - On the morning of August 13th, Liebherr's R974 B HD-EW Crawler Excavator took the first bites out of a Philip Morris Plant in Louisville, Kentucky. Prior to demolition, there was a "Dismantling Ceremony" attended by Mayor Jerry Abramson, Councilman David Tandy, various city officials, former Philip Morris employees and members of the community. A crowd of over 125 people listened as Mayor Abramson described the possibility for new economic growth in West Louisville.
The Philip Morris plant, located at 18th and Broadway, closed in 2000 and is being demolished to create The NewBridge Crossing Development, a new lifestyle community which will occupy approximately 23 acres. The new community area will include office buildings, condominiums, retail space and restaurants. NewBridge Development LLC, a subsidiary created by Louisville-based The Mardrian Group Inc. (TMG), owned by Teresa and Frank Bridgewaters, will head up the development of the site.
Adjacent to the Philip Morris plant is an operational distillery, which imposes inherent risks when razing an 8-story building. Liebherr's R974 B Heavy Duty, Extra-Wide (HD-EW) Crawler Excavator was brought in from the manufacturing plant in France to handle the primary demolition of the Philip Morris plant. With an effective operating height of 135 feet, the Liebherr R974 Excavator can start from the top of the building and control the demolition to ensure the safety of all parties involved.
Liebherr's R974 B HD-EW Demolition Excavator has an operating weight of 270,800 lbs and boasts 537 HP. The 30 degree tiltable cab and cameras placed to view the attachment and the area behind the machine provide maximum visibility for the operator. Built with D9G track components, the Liebherr machine has tougher and more durable undercarriage components than a standard build excavator. These components allow the Liebherr to easily handle the additional force of working 135 feet from the base of the machine.
Recycling is an important aspect of this project. Euro Dismantling Services (EDS) of Great Britain, one of the world's largest demolition companies, was contracted to help dismantle the Philip Morris buildings. EDS has agreed to deduct the value of all the salvageable material from the cost of the project. Materials such as concrete, glass, steel, aluminum, brass and copper can add up to almost two-thirds the cost of the entire demolition project. Before razing began, Habitat for Humanity was given salvageable material such as wood floors and concrete.
The demolition of the plant should be completed before the end of the year. The new development is planned to be finished before 2010.
Liebherr R974 B HD-EW (as shown in photo):
Operating Weight: 270,800 lb *
Attachment: 4,400 lb LaBounty UP20SV concrete processor**
HP: 537 HP
Demolition Stick: 44' 3''
Boom: Basic: 15'7'' Demolition: 55' 9'' Intermediate: 8'10''
*Operating weight conditional to this specific configuration.
**Planned tool for project is Demarec MQP-30-C "multi-quick processor" at a weight of 5,730 lb.