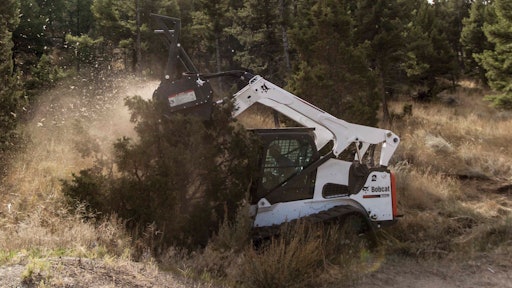 The archives of ForConstructionPros.com contain thousands of articles that are still popular and relevant to today's construction business owners. Below is a list of the week's Top 5 construction equipment-related articles trending on the web portal. We invite you to review them to assess their ongoing relevance to your own business -- or simply to look back at where we've been and how far the industry has come.
Choose Mobile Mulching Equipment Wisely to Clear More Profits on Land Clearing Jobs: Whether it's a right-of-way, small housing plot or large development, there are a number of factors that go into determining if a skid steer or compact track loader and mulching head attachment can effectively clear the site, or if a dedicated mobile mulching machine will be the most productive and cost-effective choice.
TLBs Tackle the Tough Stuff: Although backhoe-loaders in the 14-ft. dig depth and above size class have long been regarded as essential tools on commercial construction sites, their smaller counterparts (12-ft. dig depth and below) have generally been perceived as too lightweight for such use. But even the smallest of compact models (10-ft. dig depth or less) are finding use in a much wider range of applications.
Choosing the right rammer: So while the engine is still a primary point of differentiation among brands of rammers, there are numerous features to consider that enhance performance, ergonomics, maintenance and more.
A Choice Between Minis and Compacts: Admittedly, a mini skid steer and a compact skid steer can do essentially the same tasks. But each has its specialty, so you need to ask yourself what you are trying to accomplish to determine which machine is best for you.
How to Select the Best Heavy Truck Transmissions for Construction Use: Many factors can influence which type of transmission is the best choice for your operation. Technology is constantly evolving and yesterday's best solution may not be right for tomorrow.