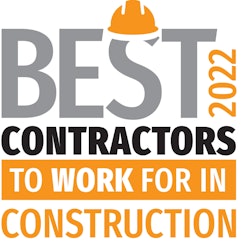 ForConstructionPros.com has announced the winners of its 2022 Best Contractors to Work for in Construction.
The recognition program honors the top construction companies that provide a positive workplace environment, competitive compensation, training, and opportunities for advancement.
To be considered, employers needed to register, and employees needed to complete an in-depth survey, providing feedback about their employer. Eligible construction companies had to employ 15 full- or part-time workers in the U.S., and the company's primary business activity was required to be general building construction, earthmoving, paving, concrete or specialty and trades, such as underground, utility, electrical, HVAC, demolition and others.
Winners include, in alphabetical order (company name, number of employees, headquarters):
A&A Paving Contractors, 19, Roselle, Ill.
AGUA TRUCKS, 27, El Mirage, Ariz.
Alpha Structural, Inc., 115, Sunland, Calif.

Clune Construction, 626, Chicago, Ill.

CSI 3000, Inc., 25, Cicero, Ill.
Diamond Surface, Inc., 114, Rogers, Minn.
Emerald Construction Co., 24, Richmond, Va.
Five-S Group, LLC., 44, Baton Rouge, La.
Frampton Construction Company, 50, Ladson, S.C.

K&L Industries, 43, Canby, Ore.

Morrey's Contracting, 35, Detroit, Mich.
Redmond, 32, Chicago, Ill.
Southwest Companies Inc., 25, Independence, Ohio
Stronghold Engineering, Inc., 185, Perris, Calif.
The Garrett Companies, 181, Greenwood, Ind.
The Pavement Group Inc, 15, Wexford, Pa.
Walsh Construction Co, 237, Portland, Ore.
Entry forms and surveys were handled by the Best Companies Group, which analyzed the data and created an insights report based on the results.
To be considered for the 2023 Best Contractors to Work For, contact Cathy Somers at [email protected].
The program was hosted by AC Business Media, ForConstructionPros.com and its affiliated construction brands (Equipment Today, Asphalt Contractor, Concrete Contractor, and Pavement Maintenance & Reconstruction).
"We are pleased to honor the companies named 'Best Contractors to Work for in Construction' again in 2022," says Amy Schwandt, chief revenue officer, AC Business Media. "These companies have worked hard to achieve this prestigious recognition and it is it testament to their hard work and dedication to the industry."